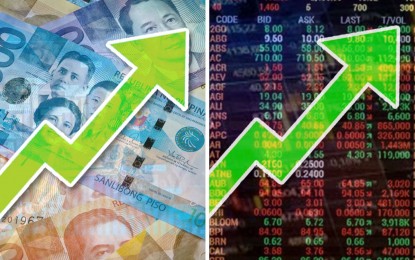 MANILA – Optimism on the domestic economy's performance this 2023 lifted the local bourse's main index above the 7,000-level on Monday, which, in turn, was mirrored by the peso.
The Philippine Stock Exchange index (PSEi) gained 1.35 percent, or 93.94 points, to 7,045.48 points.
All Shares rose by 1.03 percent, or 37.53 points, to 3,675.15 points.
Most of the sectoral indices also inched up during the day, led by the Financials after it climbed 2.80 percent.
It was trailed by the Holding Firms, 2.43 percent; Property, 0.37 percent; and Industrial, 0.32 percent.
On the other hand, Mining and Oil slipped by 0.69 percent and Services by 0.10 percent.
Volume reached 1.11 billion shares amounting to PHP10.23 billion.
Advancers led decliners at 138 to 65 while 46 shares were unchanged.
"Philippine shares touched the 7,000 level after so many months as foreign funds continued to make bets into our economy, as conviction remained high that the country would be one of the best performers in 2023," said Luis Limlingan, Regina Capital Development Corporation head of sales.
He said the positive sentiments during the day came about despite the shortened trading in the US this week, with Monday closed in line with the Martin Luther King Jr. Day.
Meanwhile, oil prices continue to go up following the slip of the US dollar to its seven-month low and the signs of improving demand from China.
Price of Brent crude oil rose by 1.5 percent to USD85.28 a barrel and the West Texas Intermediate (WTI) by 1.9 percent to USD79.86 per barrel.
Gains of the PSEi benefited the local currency after it improved to 54.575 against the greenback from its 54.89 close Friday last week.
It opened the week's trade at 54.9, sideways from the previous session's 54.95.
It traded between 54.9 and 54.475, resulting in an average of 54.651.
Volume declined to USD1.27 billion from USD1.37 billion at the end of last week.
Rizal Commercial Banking Corporation chief economist Michael Ricafort said the peso ended the day at its nearly seven-month low or since June 22, 2022 when it finished the trade at 54.47 to a US dollar.
He traced the peso's strength to further deceleration of US' consumer price index (CPI), which raises hope for smaller hikes in the Federal Reserve's key rates.
He said this development also resulted in the drop of the benchmark 10-year US Treasury's yield to 3.50 percent, a new low in nearly a month.
For Tuesday, the currency pair is seen to trade between 54.45-54.65. (PNA)