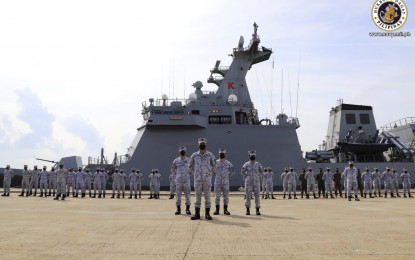 MANILA – As part of the Philippine Navy (PN)'s efforts to professionalize its ranks, officers and crew members of missile frigate BRP Antonio Luna (FF-151) attended a damage control personnel qualification standards (DCPQS) class aimed at boosting their response in emergency situations aboard ship.
"First of this year, BRP Antonio Luna convenes the DCPQS Class 03-2023 composed of 20 students (four officers, 16 enlisted personnel) on 16 January 2023," the missile frigate said in a post on its Facebook page on Wednesday night.
This is the first DCQPS class held for crew members of the missile frigate this year, which includes training and learning opportunities focused specifically on damage control during emergency situations like fires and floods.
"Damage control plays an integral part aboard ship, and is a mandatory requirement to every personnel to uphold a high level of competency in keeping the ship's integrity whether in port or at sea," it added.
The BRP Antonio Luna and its sister ship BRP Jose Rizal (FF-150) are modern warships capable of surface, sub-surface, air and electronic warfare using state-of-the-art electronic sensors, long-range missiles, acoustic guided torpedoes and embarked anti-submarine helicopters.
The BRP Jose Rizal was delivered to the Philippines in May 2020 and commissioned in July of the same year while the BRP Antonio Luna was commissioned on March 19, 2021.
The contract for the two ships was placed at PHP16 billion with another PHP2 billion for weapon systems and munitions. (PNA)