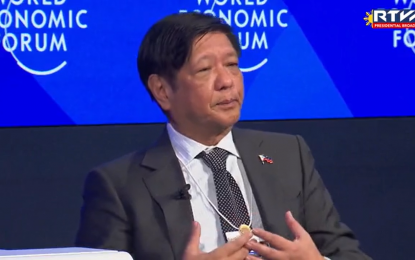 MANILA – Economic managers said President Ferdinand R. Marcos Jr. has done a lot to explain to top leaders and businessmen attending the World Economic Forum (WEF) in Davos, Switzerland the Philippines' success stories amid the pandemic
Quoting Finance Secretary Benjamin Diokno during a briefing, a press release from the Presidential Communications Office on Thursday, said the President, through the delegation's opening session and through several meetings with top leaders and businessmen has explained the current situation in the country.
"Naipaliwanag naman natin iyong Philippine economy. Ang purpose talaga nito is to sell the country -- nasaan tayo, ganoon (We were able to explain things about the Philippine economy. Our real purpose here is to sell the country -- where we are now and the likes)," he said.
He said the Philippine delegation's participation in the annual event is "very timely", noting that the Davos conference's face-to-face event was suspended for three years due to the pandemic.
"Secondly, we have a very nice story to tell -- iyong anong sitwasyon natin after the pandemic. So iyon ang magandang pinunta namin dito (Secondly, we have a very nice story to tell -- our situation after the pandemic. That's the reason why we're here)," Diokno said.
For one, the domestic economy continues to recover from the pandemic.
Growth, as measured by gross domestic product (GDP), expanded by 7.7 percent in the first three quarters of 2022, exceeding the economic managers' 6.5-7.5 percent growth assumption for last year.
GDP is seen to rise faster in the coming quarters as the economy continues to be reopened.
National Economic and Development Authority (NEDA) Secretary Arsenio Balisacan said the challenge for the Philippines now is highlighting its good narratives and where it currently stands from the point of view of foreign authorities.
"And I think that interaction proves very useful because as I said, they would want to hear whether the story that's emerging in the Philippines is sustainable. It's a long-term one because if they come in, it is a long-term decision," he said.
Questions raised during the various meetings with Philippine authorities include how the country is moving forward, policy concerns and other issues and reform measures to make the economy more attractive to investors.
"An important achievement that we have made here that, you know, we are able to tell and then also to ask questions, that's also the other important points there, [being] able to ask direct, pointed, quite frank questions on the economy, on our institutions and on policies," Balisacan said.
Meanwhile, Trade and Industry Secretary Alfredo Pascual said the President's participation in the WEF stirred investors' interest in several areas like the digital economy, minerals processing, logistics and transport, and micro, small and medium enterprises operations. (PNA)