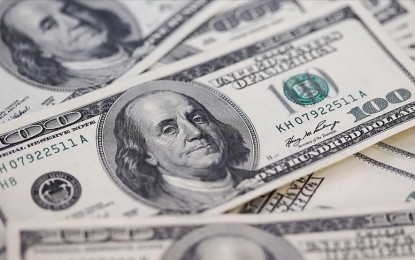 MANILA – The Philippines' balance of payment (BOP) position reversed to a surplus in December 2022 to USD612 million and an economist forecasts further improvement in the coming months as structural US dollar inflows continue to increase.
Data released by the Bangko Sentral ng Pilipinas (BSP) on Thursday showed that the BOP position, which is the sum of a country's total trade with the rest of the world, last December is better than the previous month's USD756 million deficit but is lower than year-ago's USD991 million surplus. The latest figures brought the end-2022 BOP position to a deficit of USD7.26 billion, higher than the USD1.35 billion deficit in end-2021.
Rizal Commercial Banking Corporation (RCBC) chief economist Michael Ricafort traced the improvement in the country's BOP position at the end of last year partly to the seasonal increase of remittances from overseas Filipino workers (OFWs) during the Christmas season as well as the increase in business process outsourcing (BPO) revenues, exports and foreign tourism receipts, with the latter due to the reopening of the country to foreign tourists.
He said the narrowing of the country's trade deficit to its lowest level in more than one year, due to the drop in the prices of oil and other commodities in the international market in part because of the possible recession in the US, also boosted the BOP position.
These factors are, however, seen to have been countered by the national government's net payments of its foreign currency-denominated liabilities as well the wider trade deficit of the country on account of higher commodity prices primarily because of the Russia-Ukraine war.
Improvement of the country's BOP position as well as the gross international reserves (GIR) is seen to continue this month after the national government issued USD3 billion worth of US dollar-denominated global bond.
"For the coming months of 2023, the proceeds of the planned US dollar retail bond issuance within 1H 2023 (worth about USD3 billion; with a tenor of at least five years) would also add to the country's BOP and GIR," he added. (PNA)