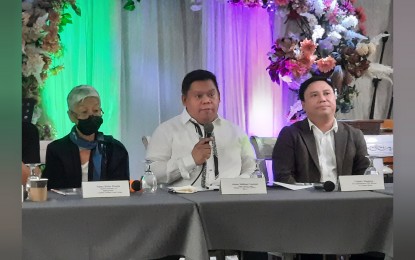 MANILA – The Board of Investments (BOI) and Philippine Economic Zone Authority (PEZA) vowed to follow through on the investment pledges that President Ferdinand R. Marcos Jr. bagged from his recent foreign trips.
At the Saturday News Forum at Dapo Restaurant in Quezon City, PEZA deputy director general Aleem Siddiqui Guiapal said the investment promotion agency (IPA) had sent a delegation to Washington DC, United States on January 8 to 13, which is a follow-up visit of Marcos' trip last year.
He said they met with business executives in agri-business, the semiconductors and electronics industry, and information technology and business process outsourcing, among others, wherein the commitments of the investors were reaffirmed.
Global food corporation Cargill is eyeing to expand its operations in the Philippines, although Guiapal declined to go into details.
"We are very busy this January. We have a lot of prospective investors visiting us," he said, noting that some of the investors are from countries where Marcos had state visits.
Department of Trade and Industry Undersecretary and BOI managing head Ceferino Rodolfo said Marcos' foreign trips helped secure commitments from global companies to invest in the Philippines.
Rodolfo said several companies that made investment pledges have engaged with the IPAs in the past.
For instance, BOI and mineral processing company Glencore had discussions during the 5th Joint Economic Commission meeting between the Philippines and Switzerland early this month, he said.
However, it was on the sidelines of Marcos' participation at the World Economic Forum (WEF) in Davos that Glencore executives expressed the firm's investment pledges during their meeting with the Chief Executive, according to Rodolfo.
He said potential investments from Glencore, which owns the Philippine Associated Smelting and Refining Corp., could reach more than PHP1 billion for its expansion in its current location in Leyte or other parts of the country.
In Davos, Marcos secured at least nine investment pledges, including from Glencore, investment firm Morgan Stanley and Dubai, United Arab Emirates-based logistics provider DP World.
The BOI and PEZA, the country's leading IPAs, also see improvement in investment approvals this year with the President's aggressive promotion of the Philippines as an investment destination. (PNA)