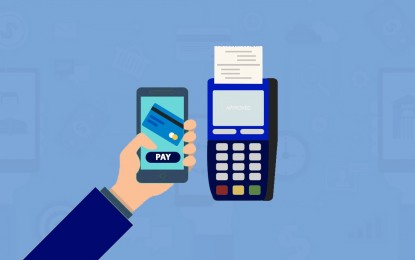 MANILA – The Credit Card Association of the Philippines (CCAP) on Monday said the latest decision of the Bangko Sentral ng Pilipinas (BSP) to hike the maximum finance charge on cardholder's unpaid outstanding balance from 2 percent to 3 percent is a win-win situation for the industry and consumers.
"CCAP backs the BSP in pursing various options using monetary tools to help many Filipinos, particularly the micro, small and medium enterprises, cope with rising consumer prices, boost consumption and tourism, and ultimately aid in the country's economic recovery," CCAP said in a statement.
It explained that "with the pandemic spurring the rapid adoption of consumers of new virtual payment technologies, credit cards serve as an effective, safe, and convenient payment tool that drives and contributes to the overall digitalization goal of the country."
"Market-driven rates will help, not only in boosting competition in the industry, but in accelerating financial inclusion and creating a cashless society – which are aligned with the BSP's goals," the CCAP statement read.
CCAP, which is composed of 17 credit card issuers, added that it "continues to support the BSP's mandate of maintaining monetary stability and the overall soundness of the Philippine financial system."
Despite the upward adjustment in the ceiling for unpaid credit card balance, the BSP, last week said it is maintaining the 1 percent cap on the monthly add-on rate charged on instalment loans as well as the PHP200 per transaction processing fee for the availment of credit card cash advances.
These changes, BSP Governor Felipe Medalla said, are in line with "developments in the macroeconomy and cushions the impact of inflationary pressure on banks'/credit card issuers' ability to provide quality credit card services to their clients."
BSP, in November 2022, imposed the ceiling on the monthly interest rate on credit cards to lessen the impact of the pandemic on consumers and boost lending activities to help both the consumers and the industry.

It, however, said that with interest rates rising now as part of central banks' response partly to the elevated inflation rates globally, it is necessary to also hike the interest rate ceiling to "help banks/credit card issuers cover higher costs related to the efficient handling of consumer transactions, including prompt and timely dispute resolution, as well as the retention of competent personnel"

"It will also make funding available for long-term investments that will institutionalize process improvements, strengthen cybersecurity and Information Technology systems, and nurture innovation in these financial institutions that will lead to better customer experience," the BSP said. (PNA)