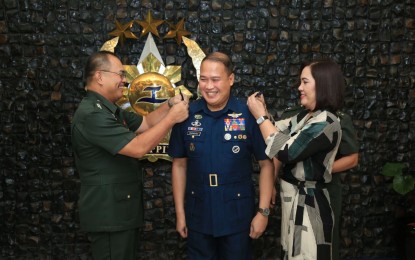 MANILA – Some 21 senior officers of the Philippine Air Force (PAF) and the Philippine Navy were promoted to their next higher rank.
In a statement Monday night, PAF spokesperson Col. Ma. Consuelo Castillo said donning ceremonies for the third star of Air Force chief Lt. Gen. Stephen P. Parreño took place at the Armed Forces of the Philippines (AFP) General Headquarters at Camp Aguinaldo, Quezon City earlier in the day.
"Pursuant to Republic Act No. 11709, and in accordance with the recommendation of the Chief of Staff, Armed Forces of the Philippines (AFP) and Chairman, AFP Board of Generals, President Ferdinand Romualdez Marcos Jr. signed the appointment of Lt.Gen Parreño to the next higher rank effective January 13, 2023," she added.
AFP chief Gen. Andres C. Centino presided over the donning ceremony of the PAF commanding general who assumed command of the Air Force following the retirement of Lt. Gen. Connor Anthony Canlas Sr. in late December.
"Subsequently, traditional full military honors was accorded to the CG, PAF upon his arrival at the HPAF (Headquarters PAF) quadrangle (at Villamor Air Base, Pasay City) as he and his family were also warmly received with congratulatory wishes by PAF unit commanders and HPAF Staff," Castillo added.
Also on Monday afternoon, the official donning of ranks took place at the PAF Gymnasium for the newly promoted two-star generals (major general), one-star generals (brigadier general), as well as one reservist who rose to the rank of colonel.
Parreño also pinned PAF wings to the promoted officers with corresponding upgrades in their aeronautical ratings.
The following were promoted to two-star rank: Maj. Gen. Edgar M. Cardinoza who heads the AFP Health Service Command; Maj. Gen. Aristotle D. Gonzalez, Air Education Training and Doctrine Command chief, and Maj. Gen. George A. Blanco, Air Logistics Command commander.
Promoted to one-star rank were the following:
-Brig. Gen. Onie D. Petinglay, Wing Commander, Air Defense Command;
-Brig. Gen. Reynold R. Rueca, Deputy Commander, Air Logistics Command;
-Brig. Gen. Gerold N. Gagan, Wing Commander, 420th Supply Wing;
-Brig. Gen. Edgar C. Torres, Wing Commander, 300th Air Intelligence Service Group;
-Brig. Gen. Rey, M. Bes, Deputy Commander, Western Command;
-Brig. Gen. Antonio Z. Francisco Jr. Acting Commander, Air Base Development Command;
-Brig. Gen. Leo O. Fontanilla, Wing Commander, 5th Fighter Wing;
-Brig. Gen. Ramil G. Oloroso, Wing Commander, Tactical Operations Wing Central;
-Brig. Gen. Leodigario V. Macalintal, Deputy, The Inspector General (TIG).
"Furthermore, one of the PAF's dedicated reservists, Col Arthur P. Tugade (Res), Group Commander, 22nd Air Force Group Reserve, was also donned with his new rank of full colonel," Castillo added.
Parreño urged all newly-promoted officers to "accelerate with excellence our PAF."
"This promotion is a testament of our PAF leaders' competence, commitment, and their readiness to assume the highest responsibilities of leading the PAF towards its vision of becoming a credible and agile force adaptable to modern warfare and responsive to national and regional security and development," Castillo said.
Aside from the PAF commander, Centino also pinned the third star of Lt.Gen. Benedict M. Arevalo, the head of the Visayas Command.
The donning of ranks ceremony is a time-honored tradition that celebrates and acknowledges the commitment, excellence, and leadership capabilities of those who advance in their military careers.
"It is also a profound reminder that our Institution is dynamic, where the men and women behind it are constantly evolving towards attaining higher accomplishments and dedication year after year in their lifetime career of serving the people and country," Centino added.
Also on Monday, the PN held a donning of rank ceremony for four newly-promoted flag and general officers in its headquarters at Naval Station Jose Andrada, Roxas Boulevard, Manila.
"Navy chief Vice Admiral Toribio Adaci Jr. presided over the ceremony promoting Commodore Jose Ma Ambrosio Ezpeleta, the Chief of Naval Staff, to the rank of Rear Admiral, along with other promotees Navy Captain Alan Javier, the Commander of Naval Forces West, to the rank of Commodore," PN spokesperson Commander Benjo Negranza said in a statement.
Also elevated to the rank of Brigadier General were Marine Col. Eric Macaambac, the Commander of First Marine Brigade, and Col. Nestor Narag, the Commander of Combat Service Support Brigade of the Philippine Marine Corps.
"Here in the PN, we are fortunate that as we are forging our organization to become a modern and multi-capable naval force, we have leaders of change in the persons of Rear Admiral Ezpeleta, Brig. Gen. Macaambac, Commodore Javier, and Brig. Gen. Narag— men of steadfast action who live up to their duties and lead with the PN's best interest at heart," Adaci said.
"I trust that you will take this worthwhile obligation as a welcome challenge to better serve the Navy and our maritime nation," he added. (PNA)