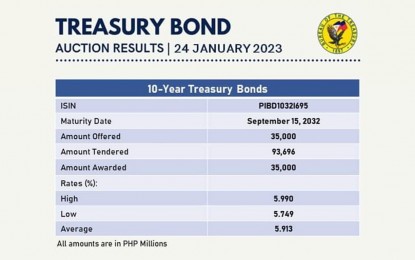 MANILA – The rate of 10-year Treasury bond (T-bond) declined on Tuesday, with demand remaining strong.

The average rate of the debt paper slipped to 5.913 percent from 7.344 percent previously.

The Bureau of the Treasury (BTr) offered the securities for PHP35 billion and the auction committee made a full award.
Bids were nearly threefold after it reached PHP93.696 billion.

Rizal Commercial Banking Corporation (RCBC) chief economist Michael Ricafort said the rate of the debt paper is also lower than the same tenor paper in the secondary market, which is at 6.06 percent as of Jan. 24.

Ricafort said the latest trend of declining government securities (GS) rates in the country is due partly to the "stronger peso exchange rate lately to among the strongest in more than seven months," which is expected to help "ease import prices and overall inflation."

"Large demand/bids for the national government bond sales over the past two weeks also led to the lower auction yields amid dovish signals from Fed (Federal Reserve) and local monetary officials, particularly on smaller +0.25 rate hike/s and recent signals about the local monetary tightening cycle nearing the end by 1Q (first quarter) 2023 amid possible easing of year-on-year inflation," he said.

Ricafort said sentiments are also buoyed by hints from the Bangko Sentral ng Pilipinas (BSP) officials about the possible cut in banks' reserve requirement ratio (RRR) within the first half of this year. (PNA)