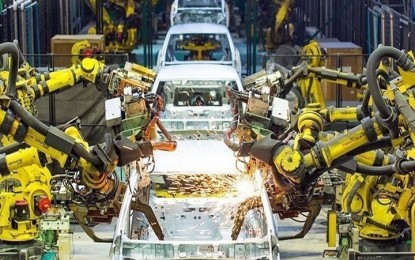 ISTANBUL – Japan's manufacturing sector's purchasing managers index (PMI) is expected to be at 48.9 -- unchanged from the end of 2022.
According to S&P Global's provisional data, the figure signaled the joint-strongest deterioration in the health of the Japanese manufacturing sector since October 2020.
Japanese manufacturing companies continued to face weak consumer demand in January, the report said.
"Demand conditions remained subdued and reportedly led to sustained reductions in output and new orders, though rates of decline softened to three-month lows in both cases. In line with lower production levels, firms cut back input buying at the fastest pace since April 2014, when excluding the initial pandemic-related lockdown," it added.
Meanwhile, Japan's manufacturing output index posted a slight recovery from 46.6 to 47.1, still on the negative side.
Declines were also reported in manufacturing output and new orders eased in the month, and companies saw a relatively elevated degree of confidence.
Input costs and selling prices rose at the slowest paces in 17 and 16 months, respectively in January, it added. (Anadolu)