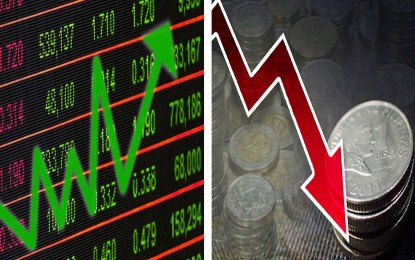 MANILA – The local stock barometer recovered on Wednesday on positive earnings report from the United States but the peso weakened against the US dollar.
The Philippine Stock Exchange index (PSEi) rose by 0.57 percent, or 39.86 points, to 7,081.36 points.
All Shares followed with an increase of 0.44 percent, or 16.28 points, to 3,702.76 points.
Most of the sectoral indices also gained during the day, led by the Services index after it inched up by 1.10 percent.
It was trailed by Holding Firms, 0.69 percent; Property, 0.51 percent; Financials,0.12 percent; and Industrial, 0.08 percent.
Only Mining and Oil ended the day in the negative territory after slipping by 0.48 percent.
Volume reached 1.86 billion shares amounting to PHP5.75 billion.
Advancers led decliners at 100 to 89 while 48 shares were unchanged.
"Philippine shares closed higher, stronger on the back of a strong Microsoft earnings (that) boosted sentiment in the technology sector amid fears of a recession," said Luis Limlingan, Regina Capital Development Corporation (RCDC) head of sales.
The tech giant reported a 2 percent year-on-year jump in total revenues for the second quarter of fiscal year 2022 to USD52.7 billion which, however, is lower than expectations of around USD52.9 billion.
Limlingan said investors are awaiting for more high-profile corporate earnings reports in the coming days.
Citing a report from a global financial market data and infrastructure provider Refinitiv, Limlingan said "more than 70 S&P500 companies have reported 4Q (fourth quarter) earnings, and 65 percent of them posted stronger-than-expected results."
On the local front, he said investors are betting on the domestic economy's fourth quarter 2022 output, which is scheduled to be released by the Philippine Statistics Authority (PSA) on Thursday.
In the third quarter, gross domestic product (GDP) expanded by 7.6 percent, higher than the previous three months' 7.5 percent but lower than the 8.2 percent in the first quarter.
The average GDP growth as of end-September 2022 stood at 7.7 percent, higher than the government's 6.5 to 7.5 percent growth assumption for last year.
Meanwhile, oil prices fell in the international market "on concerns about a global economic slowdown and expected build in US oil inventories."
Brent crude oil futures slipped by 1.3 percent to USD87.04 per barrel and the West Texas Intermediate (WTI) by 1.2 percent to USD80.66 per barrel.
Meanwhile, the local currency weakened against the US dollar and closed the day at 54.63 from the previous day's 54.435.
Its weakness showed early on when it opened the day at 54.75 from the previous session's 54.6 start.
It traded between 54.79 and 54.53, resulting in an average of 54.625.
Volume declined to USD1.02 billion from day-ago's USD1.05 billion.
Rizal Commercial Banking Corporation (RCBC) chief economist Michael Ricafort traced the peso's weakness to the "healthy correction" following its recent appreciation against the greenback because of the latter's dip to its 7.5-month lows on expectations for smaller hikes in the Federal Reserve's key rates.
"Market sentiment is supported by more dovish signals by the Fed and local monetary authorities that led to some downward correction in various government and BSP (Bangko Sentral ng Pilipinas) securities auction yields recently," he said.
For Thursday, the local currency is expected to trade between 54.55 and 54.75 to a US dollar. (PNA)