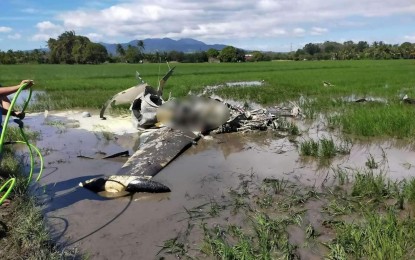 MANILA – The Philippine Air Force (PAF) is looking into materiel, meteorological, and human factors in determining the cause of Wednesday's crash of a Siai-Marchetti SF-260TP turboprop light attack aircraft that killed two pilots.
In an interview with reporters on Thursday, PAF spokesperson Col. Ma. Consuelo Castillo said aircraft accident investigation teams have secured the crash site in Sitio Tabon, Barangay Del Rosario in Pilar town, Bataan as the probe is ongoing.
"We (are looking) at all possible angles para po matunton natin yung (to trace the) real cause of the accident," she added.
For the materiel angle, she said this would be investigated by examining recovered aircraft components and the last transmissions made by the pilots before the actual crash landing. This is to determine if there were problems encountered during the flight.
"And then of course, we also have to look at possible human factors, meteorogical factors, sabi nga ho nila clear daw ho yung weather but, you know, there could be possibilities na merong wind or sudden buildup of clouds na posible ring nakaapekto sa flight ng ating SF-260TP (they said the weather was clear but, you know, there could be possibilities of a sudden gust of wind or sudden buildup of clouds that could have affected the flight of our SF-260TP)," she added.
Castillo said PAF crash investigators would look extensively into these factors in the coming days or weeks.
She noted that while the remaining SF-260TPs would be grounded while the investigation is ongoing, the PAF has sufficient aircraft at hand to conduct close-air support missions.
"Patuloy po ang atin (our mission will continue) because we have other types of attack aircraft, fixed wing or rotary to perform these combat operations," she added.
As of this time, Castillo said, the PAF has four remaining SF-260TPs in its inventory.
She, however, noted that more training versions or models of the aircraft are being used in basic training and flight schools.
The ill-fated SF-260TP took off from the Maj. Danilo Atienza Air Base in Sangley Point, Cavite City to perform a recurrency/training flight at about 10 a.m. on Wednesday.
The PAF said the aircraft was seen descending on a field in Pilar, Bataan at about 10:40 a.m. where it eventually crashed.
The SF-260TP is a highly maneuverable and fully aerobatic basic trainer aircraft of the PAF that serves as a light attack combat aircraft. It was used during the Marawi Siege and various combat missions of the PAF.
It is capable of performing close air support, battlefield air interdiction, aerial reconnaissance, persuasion flight, armed escort, maritime patrol, air cover, flare drop, forward air controller, and aerial demonstration.
"The PAF enjoins the public to join us in condoling with the bereaved families as we further request to refrain from spreading unconfirmed/unofficial news and pictures about the incident. The PAF assures that all necessary aid, assistance, and support will be provided to them," it added.
Fallen pilots identified
Castillo identified the fallen pilots as Capt. Ian Gerru Pasinos, the pilot-in-command, and Capt. Jhon Paulo Ong Aviso, co-pilot.
Pasinos is from Cagayan de Oro City while Aviso is from Zamboanga.
Both pilots are recipients of Gold Cross Medals for gallantry in action in different air combat operations to include the military offensives against the dreaded Maute Group during the Battle of Marawi.
Pasinos was also directly involved in different tactical missions including support to Joint Task Force Zampelan's Operations in Lanao Del Sur in April 2017, and the all-out military offensives against the Abu Sayyaf in Bohol in August 2017.
"With Capt. Pasinos and Capt. Aviso's passing, not only have we lost two brave pilots, but we also lost brothers in arms; and to their loved ones, it is a painful loss of a father, a husband, a son, and a friend. Until the end, they fulfilled their mandate as Filipino soldiers, and their final act of heroism was ensuring landing on a clear area that will prevent possible casualties on the ground," Castillo added. (PNA)