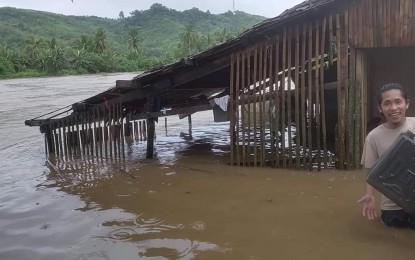 MANILA – The death toll from the torrential rains and floods from the low pressure area, shear line, and northeast monsoon that has affected a large part of the country since Jan. 2 has climbed to 43, the Office of Civil Defense reported on Monday.
The agency's latest disaster bulletin said the figure includes 20 confirmed deaths -- nine from Zamboanga Peninsula; seven from Eastern Visayas; two from Northern Mindanao and one each from Mimaropa and Davao Region.
Another 23 fatalities are undergoing validation -- 13 from Bicol; six from Northern Mindanao; three from Zamboanga Peninsula and one from Soccsksargen.
The number of injured and missing persons are placed at 11 and eight, respectively.
Agriculture damage is now estimated at PHP1.05 billion while infrastructure damage is at PHP523.2 million
A total of 1,888 houses have been damaged.
The affected population is estimated at 497,015 families or around 2,043,686 persons.
Relief drive continues
As this developed, the Armed Forces of the Philippines (AFP) announced that BRP Davao Del Sur (LD-602) arrived at the Iligan Pier, Lanao Del Norte carrying some 358 tons of relief goods for flood victims in Eastern Mindanao on Monday morning.
The ship left Subic Port, Zambales on Jan. 28.
"The LD-602 is one of the Philippine Navy (PN) ships that was tapped by the Department of Social Welfare(DWSD) and Development and the Office of Civil Defense (OCD) for a mission to transport relief goods to the families and individuals affected by the shear lines and constant low-pressure areas in Mindanao. The relief goods delivered consist of food packs, kitchen kits, hygiene kits, sleeping kits and family tents," AFP public affairs Col. Jorry Baclor said.
Also on Saturday, another PN ship, BRP Tarlac (LD-601) transported 276 tons of relief goods which are now being prepared by DSWD and OCD to deliver directly to the affected families in the Zamboanga area.
A total of 634 tons of goods were transported to their designated destinations by the AFP's ships over the weekend.
The Bureau of Fire Protection, Philippine National Police, Philippine Coast Guard, Office of the OCD and the AFP, composed of the PN and the Philippine Army provided manpower to unload the relief goods.
Baclor said this in line with the guidance of AFP chief Gen. Andres Centino, to deploy military assets for the conduct of humanitarian and disaster response in order to alleviate human suffering caused by various calamities. (PNA)