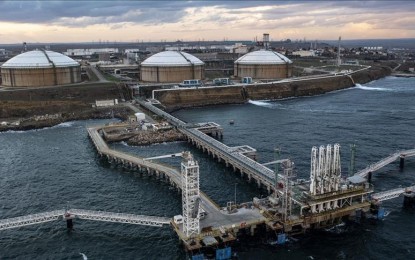 ANKARA – Oil prices fell on Monday over uncertainty ahead of an expected meeting of major oil producing countries of the OPEC+ group and US Federal Reserve (Fed).
International benchmark Brent crude traded at USD85.93 per barrel at 09.56 a.m. local time (0656 GMT), a 0.54 percent decrease from the closing price of USD86.40 a barrel in the previous trading session.
The American benchmark West Texas Intermediate (WTI) traded at USD79.19 per barrel at the same time, a 0.61 percent loss after the previous session closed at USD79.68 a barrel.
On Wednesday, the 23-member group of the Organization of Petroleum Exporting Countries (OPEC) and its allies, known as OPEC+, will meet for the first time after they agreed on Oct. 5 to cut production by 2 million barrels per day (bpd) as of November 2022.
Although the group is not expected to change their production policy, the uncertainty increased the downward pressure on oil prices.
Also, upcoming rate hike decisions by the Fed and several EU banks further blurred the market.
While the Fed is expected to slow the pace of interest rate hikes on Wednesday, the European Central Bank and Bank of England are both expected to hike rates by 50 basis points each.
Investors are also watching Chinese financial markets as the trading will return to normal after the week-long Lunar New Year holidays.
According to state media reports, holiday travel inside China surged 74% from last year after authorities eased Covid-19 (coronavirus disease 2019) restrictions. (Anadolu)