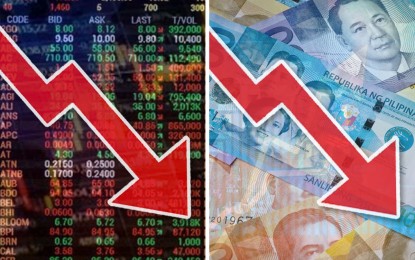 MANILA – Investors stayed at the sidelines on Tuesday as the Federal Open Market Committee (FOMC) started its two-day meeting, resulting in the negative close of both the local bourse's main index and the peso.
The Philippine Stock Exchange index (PSEi) shed 2.55 percent, or 177.72 points, to 6,793.25 points
All other counters also finished the day in the negative territory, with the All Shares down by 1.90 percent, or 69.56 points, to 3,590.40 points.
Mining and Oil posted the highest decline among the sectoral indices after it fell by 3.63 percent.
It was trailed by Property, 3.09 percent; Holding Firms, 2.66 percent; Services, 2.44 percent; Financials, 1.95 percent; and Industrial, 1.18 percent.
Volume reached 1.54 billion shares amounting to PHP11.27 billion.
Decliners led advancers at 147 to 50 while 27 shares were unchanged.
Regina Capital Development Corporation (RCDC) head of sales Luis Limlingan said "investors expect the U.S. Federal Reserve to raise rates by 25 basis points on Wednesday, followed the day after by half-point increases by the Bank of England and European Central Bank."
"Any deviation from that script would be a shock. Traders widely expect a 25 bp (basis points) increase, but will monitor commentary for clues into how much further the Fed intends to hike, or when it plans to cut rates," he said.
On the local front, Limlingan said the PSEi was affected by profit taking "as the last trading day of January drew to a close."
Oil prices in the international market fell anew "as looming increases to interest rates by major central banks weighed on demand and Russian exports remained strong."
Brent crude futures for March 2023 delivery slipped by 2.03 percent to USD 84.90 per barrel and West Texas Intermediate (WTI) declined by 2.23 percent to USD77.99 a barrel, the biggest drop in almost four weeks.
Meanwhile, the local currency depreciated to 54.64 to a greenback from its 54.545 finish a day ago, which Rizal Commercial Banking Corporation (RCBC) chief economist Michael Ricafort partly traced to the PSEi's performance.
It opened the day at 54.65 and traded between 54.7 and 54.47. The average level for the day stood at 54.571.
Volume rose to USD984.31 million from day-ago's USD 687.87 million.
Also contributing to the peso's weakness, Ricafort said, are the Bangko Sentral ng Pilipinas' (BSP) expectations that January 2023 inflation will remain elevated, with the range projected between 7.5 to 8.3 percent, and projections that the BSP will mirror the widely expected 25 basis points increase in the Fed rates during the former's rate setting meeting next month.
"Market sentiment also supported recently by more dovish signals by the Fed and local monetary authorities that led to some downward correction in various government and BSP securities auction yields recently," he said.
For Wednesday, Ricafort projects the currency pair to trade between 54.55 to 54.75. (PNA)