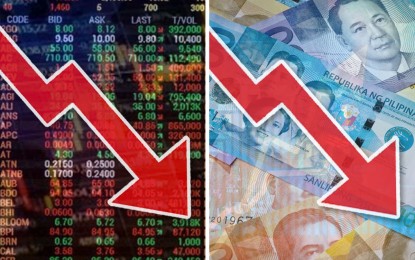 MANILA – The local bourse's main index declined anew on Tuesday partly due to acceleration in domestic inflation rate to 14-year high of 8.7 percent last January, and this performance was mirrored by the peso.

The Philippine Stock Exchange index (PSEi) shed 0.80 percent, or 55.35 points, to 6,881.26 points.

All Shares followed with a decline of 0.52 percent, or 18.93 points, to 3,655.75 points.

Most of the sectoral indices also finished the day in the negative territory -- Services, 1.53 percent; Property, 0.95 percent; Financials, 0.94 percent; and Industrial, 0.84 percent.

On the other hand, Mining and Oil rose by 0.52 percent and Holding Firms by 0.10 percent.

Volume reached 1.03 billion shares amounting to PHP6.14 billion.

"Philippine equities fell, pressured by rising inflation and US (United States) bond yields as investors braced for the latest commentary due Tuesday from Fed (Federal Reserve) chairman Jerome Powell," said Luis Limlingan, Regina Capital Development Corporation (RCDC) head of sales.

The country's inflation rate posted another jump last January to 8.7 percent, a fresh 14-year high, from month-ago's 8.1 percent, driven by higher annual rate of the housing, water, electricity, gas and other fuel indices.

It exceeded expectations and the possible peak last December.
"Markets interpreted a slew of his (Powell's) disinflation comments during last week's post-meeting press conference as dovish and stocks rallied," Limlingan said.

"Many view the appearance as an opportunity for Powell to offer more clarity on where rates are headed, or clarify some comments made after last week's 25 bp (basis points) rate adjustment," he added.
In terms of oil prices, Limlingan said it rose "as investors expected a return in demand from China in relation to supply concerns and fears of slower growth in major economies curbing consumption."

Brent crude oil futures increased by 1.3 percent to USD80.99 per barrel and the West Texas Intermediate (WTI) by 1 percent to USD74.11 per barrel.

The slide of the PSEi again affected the local currency after it depreciated to 55.085 to a US dollar from its 54.39 close a day ago.

It opened the day at 54.65, weaker than its 54.15 start in the previous session.

It traded between 55.1 and 54.6, resulting in an average of 54.848.

Volume reached USD1.27 billion, higher than the previous day's USD1.05 billion.

Rizal Commercial Banking Corporation (RCBC) chief economist Michael Ricafort traced the peso's performance to the higher-than-expected January 2023 domestic inflation rate, continued correction of the US dollar, wait-and-see stance ahead of the Powell's speech before the Economic Club of Washington later in the day (Manila time) and the geopolitical concerns between the US and China, among others.

For Wednesday, Ricafort forecasts the currency pair to trade between 54.90 and 55.20 to a US dollar. (PNA)