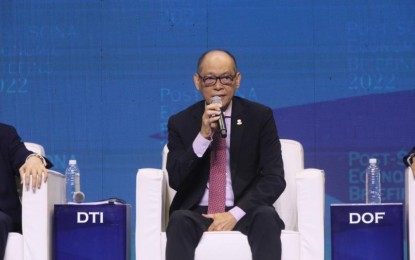 MANILA – Finance authorities are optimistic about the achievement of the Bureau of Internal Revenue's (BIR) PHP2.6 trillion revenues this year given the continued recovery of the domestic economy.
In an interview after the BIR's Tax Campaign kickoff at the Philippine International Convention Center (PICC) in Pasay City on Tuesday, Finance Secretary Benjamin Diokno said banking on the economy for the continued growth of government revenues is called "tax elasticity".
"The stronger the economy, the higher the revenues," he said.
The BIR exceeded its PHP2.1-trillion revenue goal in 2022 by more than PHP500 billion and authorities traced this to the continued reopening of the economy that boosted its recovery.
Meanwhile, asked if the government will continue to implement subsidy programs vis-à-vis another rise in domestic inflation rate last January to a new 14-year high to 8.7 percent, Diokno said it will depend on the situation, noting that the drivers of inflation's acceleration this time is food supply and not oil prices anymore.
"We will design a program that will address that," he said, adding that the national budget has provisions for this purpose.
In an interview by journalists after the event, BIR Commissioner Romeo Lumagui Jr. said the continued improvement of the agency's digitalization program and other services are expected to help boost collections this year.
He said the agency "will provide excellent taxpayers' service, (and) focus on providing convenience for the taxpayers because that's what we're here for, public service."
"We are serious with that," he added.
Lumagui said the BIR will also accelerate the achievement of its digitalization program, which is scheduled until 2023, "as soon as possible" to make the agency's internal and external processes convenient for taxpayers.
"And of course ang expectations natin dyan (our expectations there), once we are able to accomplish that, once we are able to provide convenience, the taxpayers would really voluntarily comply with their tax obligations," he said.

Asked on the impact on government revenues on the projected economic slowdown in the United States, the BIR chief said it will definitely have an effect on tax collections.

However, Lumagui said the agency is addressing its effect through various plans and programs.

"With all our efforts and all the support we're getting, then definitely, we're here to work doubly hard to attain whatever we need for the collection target," he added. (PNA)