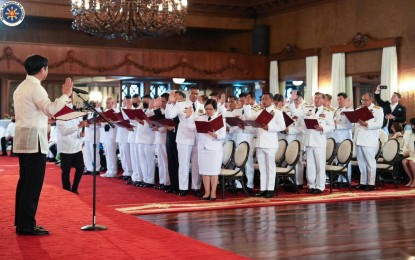 MANILA – Department of National Defense (DND) officer-in-charge Secretary Carlito Galvez Jr. on Wednesday thanked three senators who came up with a bill seeking to amend portions of Republic Act (RA) 11709, which prescribes fixed terms for key military officials.
"The DND and Armed Forces of the Philippines (AFP) are eternally grateful to the Senate, in particular, Senator Jingggoy Estrada, chair of the Committee on National Defense and Security, Peace, Unification, and Reconciliation and his co-sponsors, for addressing the concerns of our brave men and women of the AFP regarding the implementation of RA 11709, through Senate Bill No. 1849 under Committee Report No. 23, which was passed on Tuesday, 7 February 2023," he said in a statement.
Republic Act 11709 is also known as the "Act Strengthening Professionalism in the AFP."
"We in the DND also extend our deepest appreciation to the House of Representatives for having passed their own version in December 2022," Galvez said.
He added that the strong support of both houses of Congress for amending certain provisions of RA 11709 would ensure that the AFP would remain professional, dynamic, responsive, and capable of adapting to current times.
Senate Bill 1849, authored by Estrada and co-authored by Senate President Juan Miguel Zubiri and Senator Alan Peter Cayetano, seeks to amend five sections – Sections 2, 6, 10, 11, and 15 of RA 11709.
Section 2 refers to the fixed three-year term of the tour of duty of key AFP officers while Section 6 calls for the compulsory retirement of officers from 2nd lieutenant to colonel or their equivalent upon accumulation of 30 years of active service.
Section 10 refers to the forced attrition of officers, Section 11 calls for the forced attrition of enlisted personnel, and Section 15 calls for officer grade distribution.
During his sponsorship speech, Estrada said the amendments would "address the gaps, issues, and unintended consequences brought about by the implementation of RA 11709."
"Most importantly, it will definitely usher in a level of improved morale within and among the ranks of our armed forces. Ensuring a level playing field for career advancement is the least we can do for our soldiers, airmen, sailors, and marines who continue to lay their lives on the line protecting the Filipino people and defending the Philippines," Estrada added.
He noted that "this piece of legislation remains consistent with the spirit and intention of RA 11709 that is anchored on meritocracy and professionalization, while providing the organization with the necessary room for flexibility, ensuring stability, and improving the morale in our Armed Forces."
Fair chance
Meanwhile, Zubiri said the new bill aims to open a healthier environment for promotion within the ranks, which gives officers a fair chance to step up to leadership positions they have worked for during their career.
He also said this would foster a more professional AFP, one with solid and stable leadership, while allowing dynamism and positive change.
"I enjoin my colleagues in support of this measure, towards a stronger AFP, and we commit to our AFP, rank and file, together with the officers, that we will pass this as soon as possible," Zubiri added.
Co-sponsor Senator Ramon "Bong" Revilla Jr. likewise said during the plenary that the measure is a constructive validation that the Senate highly values the proposals and recommendations from the AFP officers and enlisted personnel to enhance some of the provisions of RA 11709 for it to be more responsive to the changing needs and the development of the AFP organization.
"It is our privilege to co-sponsor this measure that will serve as our responsive tool paving the way for significant long-term plans and programs to further strengthen and modernize the AFP. Indeed, continuity in leadership and excellence in the AFP can never be more vital to the defense and security of our nation. Former president Fidel Valdez Ramos correctly stressed the armed forces have a critical nation-building function. 'Sila ang isa sa haligi ng ating lipunan na ang mandato ay itaguyod ang konstitusyon, tiyakin ang seguridad ng bayan, at gwardiyahan ang ating territoryo at soberenya' (They are one of the pillars of our society whose mandate is to uphold the Constitution, ensure the country's security, and guard our territory and sovereignty)," Revilla said.
Under RA 11709, the AFP chief of staff, vice chief of staff, deputy chief of staff, heads of the major services (Army, Navy, and Air Force), unified command commanders, and inspector general will have a three-year term of office "unless sooner terminated by the President."
The President may also extend the AFP chief of staff's tour of duty in times of war or other national emergencies declared by Congress.
During the Jan. 17 Senate hearing, the DND presented proposed amendments to RA 11709.
These include having the AFP chief a maximum term of three years, while service commanders like the Army, Navy, and Air Force will have two years and the Philippine Military Academy superintendent having a four-year tenure.
Meanwhile, the AFP vice chief of staff, deputy chief of staff, unified command commanders, and inspector general can be appointed to a higher post if they still have a year left in active service.
Also included are proposals that no military officials can be promoted to brigadier general or commodore if they have less than six months left in the service. (PNA)