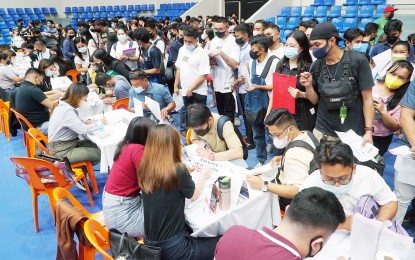 MANILA – The Philippine Statistics Authority (PSA) reported Wednesday that the country's unemployment rate stood at 4.3 percent in December 2022.
PSA Undersecretary Dennis Mapa said unemployment rate in December 2022 is the second lowest since April 2005, only behind the November 2022 unemployment rate of 4.2 percent.
Within the period, there were 43,000 jobs lost in the labor market as the number of jobless Filipinos increased to 2.22 million in December from 2.18 million in November last year.
On year-on-year basis, December 2022 unemployment rate declined from 6.6 percent during the same month in 2021.
Labor force participation last December stood at 66.4 percent from 67.5 percent the previous month.
Employment rate in December 2022 slightly slipped to 95.7 percent from 95.8 percent in the previous month. This means 49 million Filipinos aged 15 years and above have jobs during the month.
Mapa said the slightly lower employment rate and an uptick in unemployment rate in December 2022 are "statistically not significant."
He said what is needed to be highlighted is the significant decline in the number and share of underemployed Filipinos.
Underemployment last December went down to 12.6 percent from 14.4 percent a month ago and from 14.7 percent a year ago.
Mapa said the number of underemployed, or those who are seeking more working hours, decreased to 6.2 million in December 2022 from 7.16 million in the previous month, a difference of 960,000 underemployed Filipinos.
"What is clear is there were more jobs with higher quality (in December 2022)," he said in mixed English and Filipino.
PSA data showed that the average working hours in December last year improved to 40.3 hours per week from 39.3 hours and 39.7 hours per week in November 2022 and December 2021, respectively.
National Economic and Development Authority (NEDA) Secretary Arsenio Balisacan said in a statement that the Philippine Development Plan 2023-2028 pursues high-quality jobs for Filipinos.
"Alongside providing high-quality jobs, we must ensure that their skills are not just aligned with current in-demand requirements but can also continuously keep up with the demands of evolving and emerging jobs," Balisacan said.
He added creating more and high-quality jobs in the agriculture sector while ensuring food security for Filipinos remain the top priorities of the administration.
Welcome development
The Department of Labor and Employment (DOLE), meanwhile, said the country's latest employment figures serve as a motivation for it to find more opportunities for workers.
"Any increase in the employment rate and consequent decrease in unemployment rate and decrease in the underemployment rate are welcome and encouraging developments as far as the DOLE is concerned," Labor Secretary Bienvenido Laguesman said in a message to reporters.
He added that this employment situation will serve to inspire and guide the DOLE "to perform better so as to sustain the same."
He said any decrease in employment rate, increase in unemployment level and increase in underemployment would prompt the agency to review and assess its programs and strategies "to do better and more" to ensure job preservation and enhance the implementation of priorities in partnership with the private sector and business communities. (with report from Ferdinand Patinio/PNA)