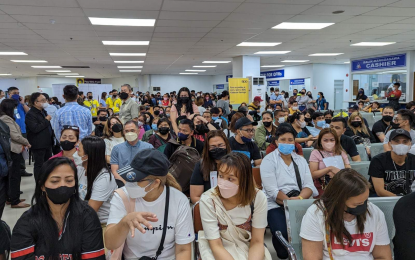 MANILA – The application of first-time domestic workers to Kuwait has been deferred by the Department of Migrant Workers (DMW) until more safeguards that will protect their security and welfare have been put in place.
"Yung mga baguhan, never before nagwork as kasambahays abroad or yung nagwork as kasambahays pero hindi sa Kuwait ay kailangan maghintay muna (Newcomers, those who have never before worked as domestic helpers abroad or those who have worked as domestic helpers but not in Kuwait will have to wait first).," DMW Secretary Susan 'Toots' Ople said in a press release issued on Wednesday.
She said the deferment in the deployment of new overseas Filipino workers (OFWs) in the household services in Kuwait will be in place until significant reforms in the existing bilateral labor agreement have been achieved.
Ople mentioned that she wants to make sure that there is a better monitoring and faster response system in place before they allow these first-time domestic workers to leave for Kuwait.
She said there are upcoming bilateral talks with Kuwait and she believes that changes, especially on the protection of OFWs in the said country will be made.
DMW Acting Secretary Maria Anthonette Velasco-Allones also shared the same position before the Senate Committee on OFW affairs chaired by Senator Raffy Tulfo.
Ople is currently in Tokyo to assist President Ferdinand R. Marcos Jr. in his meeting with Japanese shipowners.
She said Filipinos wishing to work abroad as domestic workers have other options and may choose from several other countries, and thus, should not worry about the new DMW advisor.
"Hong Kong remains a strong alternative and is much nearer to home, and we also have Singapore where we have very good relations with our counterpart ministry," Ople said.
On the issue of imposing a total deployment ban, Ople said there are actual OFWs who have already worked in Kuwait for several years who still want to go back to their old employers or seek new ones.
"We have also been informed through diplomatic channels of the willingness of the Kuwait government to engage in bilateral labor talks. We are preparing well in advance for these talks, bringing with us an accumulation of abuse done over the years, hence the need for significant changes," Ople said.
She cited the good relations between the Kingdom of Saudi Arabia and the Philippines after the bilateral talks held in November 2022.
As a result of the talks with Saudi Arabia, a joint technical working group (TWG) was created to thresh out various problems and concerns.
She said the joint TWG has been conducting a weekly virtual meeting.
DMW Undersecretary Hans Leo Cacdac earlier reported there are around 268,000 OFWs in Kuwait, and of this number, 195,000, or 88 percent, are working in the household services sector.
DMW monitoring OFWs in Turkiye, Syria, and Lebanon
Meanwhile, Ople assured that the DMW is closely monitoring the situation of OFWs in Turkiye, Syria, and Lebanon after the magnitude 7.8 earthquake on Feb. 6.
Ople has already directed the DMW welfare cluster led by Cacdac to work closely with other government agencies to deliver welfare assistance to quake victims in these countries.
"I have instructed the DMW to share information with the AFP rescue mission bound for Turkiye regarding the names of overseas workers deployed to the said country. We will also open a 24/7 hotline to respond to calls for assistance including queries from anxious families. The nearest Migrant Workers Office is in southern Lebanon, and a team from that office will be heading for Turkiye soon," Ople said.
She added that the DMW is working closely with the Department of Foreign Affairs (DFA) to ensure that humanitarian assistance would be delivered to affected OFWs in quake-affected areas in the three countries.
The DMW is activating its Hotline 1348 as a handling center for families of OFWs in the affected areas seeking information about their loved ones.
The DMW reports that there are an estimated 193 Filipinos in the three affected provinces of Hatay, Adana, and Gaziantep, all in Turkiye. (PNA)