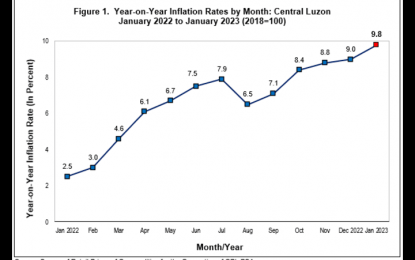 CITY OF SAN FERNANDO, Pampanga – The inflation rate in Central Luzon continued to escalate to 9.8 percent in January 2023 from 9.0 in December 2022, based on the latest report of the Philippine Statistics Authority-Regional Statistical Services Office III (PSA-RSSO III).
This is the highest inflation recorded in the region since November 2008.
In January 2022, the region's inflation rate was recorded at 2.5 percent.
The region's average inflation from January to December 2022 was recorded at 6.5 percent.
Central Luzon was second among regions, with Western Visayas recording the highest inflation at 10.3 percent followed by Davao Region at 9.4 percent.
Meanwhile, the Eastern Visayas posted the lowest inflation at 6.9 percent.
The headline inflation in the Philippines also accelerated to 8.7 percent in January 2023 from 8.1 percent in December 2022. This is also the highest recorded inflation in the country since November 2008.
In her report, PSA-RSSO III Regional Director Arlene Divino said the uptrend in inflation for January was primarily brought about by a higher annual increment in the index of food and non-alcoholic beverages at 12.0 percent from 10.8 percent in December 2022.
Divino said the upward trend in the food index can be primarily attributed to higher increments in the annual growth rate of the of vegetables, tubers, plantains, cooking bananas and pulses at 49.6 percent; fruits and nuts at 11.5 percent and meat and other parts of slaughtered land animals at 5.9 percent.
The PSA-RSSO III official likewise said the upward trend in the food index can also be credited to the increase in the indices of the following food group, namely sugar, confectionery and desserts at 33.4 percent, milk and other dairy products at 17. 2 percent and flour, bread and other bakery products, pasta products, and other cereals at 14.4 percent.
Aside from the food index, other factors that caused the uptrend inflation in January 2023 were the indices of restaurants and accommodation services at 7.0 percent from 5.1 percent in December 2022 and health at 5.3 percent from 3.6 percent in December 2022.
Higher annual increments were also noted in the following indices—housing, water, electricity, gas and other fuels at 8.6 percent; recreation, sports, and culture at 6.8 percent; clothing and footwear at 6.7 percent; personal care and miscellaneous goods and service at 6.7 percent; furnishings, household equipment and routine household maintenance at 6.1; and information and communication at 0.6 percent.
On the other hand, lower annual increments were recorded in the indices of alcoholic beverages and tobacco at 15.1 percent from 15.2 percent in December 2022 and transport at 14.0 percent in January 2023 from 15.0 percent in December 2022.
Meanwhile, the same rate of increase as that of the previous month was observed in the education services at 1.7 percent.
Among the seven provinces in the region, Nueva Ecija posted the highest inflation in January 2023 at 10.9 percent from 10.3 percent in December 2022.
Elizabeth M. Rayo, the chief statistical specialist of PSA-Nueva Ecija, said the January 10.9 percent is the second-highest recorded inflation rate in the province in the past 12 months.
"Nueva Ecija's 10.9 percent headline inflation is higher than Region III and the Philippines at 9.8 percent and 8.7 percent respectively," Rayo said in her report.
She said that the increase in the Nueva Ecija's inflation was mainly brought about by the higher annual increase in the indices of the following--alcoholic beverages and tobacco at 24.4 percent; food and non-alcoholic beverage,s 13.9 percent; and transport, 12.0 percent. (PNA)