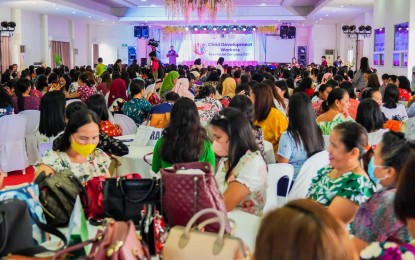 MANILA – The Senate Committee on Social Justice, Welfare and Rural Development on Wednesday decided to schedule a second hearing on the proposed measure seeking to professionalize the Child Development Worker (CDW) or Daycare Worker occupations.
Senator Imee Marcos, who chairs the committee, said the Department of the Interior and Local Government (DILG) and the federation of daycare workers (DWs) should be invited on the second hearing to explain the current setup in the administration of Daycare or Child Development Centers in the country.
Initially, the committee was able to find out from the Department of Social Welfare and Development (DSWD) that as of 2021, a total of 79,451 CDWs and DWs who are occupying tenured and untenured positions without standard wages and benefits.
With the said number, the DSWD reported that 17,479 are occupying casual positions, 23,835 are contractuals, 5,561 are job orders, 15,890 are serving under a memorandum of agreement, and only 8,739 were given permanent positions.
As of July 2022, the DSWD further reported that 14,725 CDWs nationwide receive a monthly honorarium or salary range of below PHP1,000 while only 1,054 CDWs receive above PHP1,000.
Marcos noted that daycare workers abroad are receiving way more than what Filipinos are being paid here.
"Overseas, daycare workers are actually paid much more than grade school, elementary or high school teachers. Simply because the work is so sensitive, difficult, and exhausting," she said.
Meanwhile, Senator Sherwin Gatchalian assured that he supports the measure stressing the fact that the age 0-4 is the most important part of a child's life.
"We need professionals to attend to the needs and the education of our children. I support the direction to professionalize. It is also important to hire the right people, compensate them. But structurally, we need to figure this out first," Gatchalian said referring to the implementation of the Republic Act 8980 or the Early Childhood Care and Development (ECCD) Act.
"Interestingly, the DILG is not part of the ECCD. We're asking the LGUs to implement but DILG is not part of it. So, even if the ECCD Council will come up with a standard, there's no 'teeth' so to speak to implement. That's why mabagal yung rollout (the rollout is slow) on the ground," he added.
According to the proposed Magna Carta for Child Development Workers or Daycare Workers, plantilla positions which include CDW 1 and 2, and DW 1 and 2 should be created with corresponding qualifications and salary grades approved by the Civil Service Commission.
Once enacted, DSWD said the proposed measure will ensure the future of 11 million Filipinos aged 4 yeas and below while also giving security of tenure and benefits to CDWs who are currently employed by the government through local government units. (PNA)