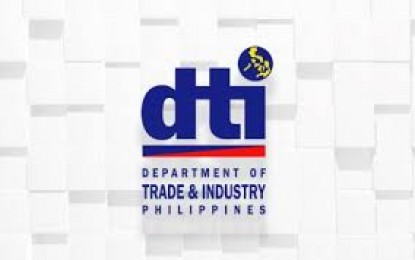 MANILA – The Department of Trade and Industry (DTI) has identified four key areas which policies and programs should be intensified to curb the rising inflation.
In a statement Wednesday, DTI said it will focus on monitoring consumer prices, improving the country's logistics and supply chain, investment promotion and partnership with other government agencies.
The DTI said amid the faster increase in prices of goods and services, it closely monitors prices of basic necessities and also helps in monitoring prices of agricultural products, which have been volatile in the past months.
It added it is coordinating with manufacturers to ensure stable supply and reasonable prices of basic necessities and prime commodities (BNPCs).
"The DTI continues to capacitate local price coordinating councils to enforce monitoring, compliance and accountability of all stakeholders at various supply chain stages, including market masters, administrators, retailers and wholesalers," DTI Secretary Alfredo Pascual said.
To manage consumer prices, Pascual said DTI has partnered with the Department of Agriculture (DA), the Department of the Interior and Local Government (DILG) and micro, small and medium enterprises (MSMEs) to roll out Diskwento caravans and Kadiwa stores to provide Filipinos access to affordable agricultural products and manufactured BNPCs.
He said improving the country's logistics infrastructure and supply chain is critical to reduce cost of goods.
"For this, we have the Supply Chain and Logistics Management Division under DTI that is working to lower logistics cost and simplify the transport of products from the point of origin to its destination," he added.
Pascual said the DTI has inked partnerships with the Department of Transportation for the convergence program on Logistics Efficiency and Transport Seamlessness for Growth Outcomes (LETS-GO) and with the Civil Aeronautics Board for a memorandum of agreement on the harmonization of sea freight and airfreight accreditation, as well as with the Department of Public Works and Highways for the convergence program on Logistics Efficiency and Transport Seamlessness to Enhance Agribusiness Trade (LETS-EAT).
"Furthermore, the DTI, DA, DPWH, DILG and DOTr are currently developing the three-year food logistics plan, which aims to ensure the unhampered movement of goods, especially food items, and reduce transport and logistics costs of agri-commodities," DTI said.
Pascual further said the Board of Investments (BOI) is also promoting the Philippines as investment hub, especially for projects that would contribute to food security and efficient production of goods.
"The inclusion of food security as one of the priority sectors aims to spur the production of agriculture and other food-related products, as well as its support services such as cold chains and cold storage facilities," he added.
Pascual said the department collaborates with the Philippine Competition Commission in conducting inquiries, investigation and hear and decide cases involving anti-competitive behavior in the domestic market.
On Tuesday, the Philippine Statistics Authority reported that inflation rate in January 2023 increased to 8.7 percent from 8.1 percent in December 2022. (PNA)