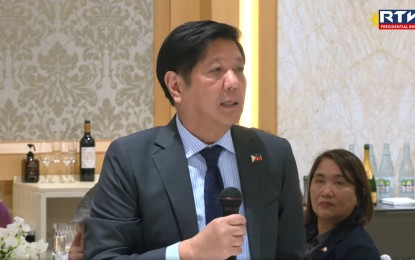 MANILA – President Ferdinand R. Marcos Jr. on Wednesday night underscored the need for the Philippines and Japan to "revitalize" business partnerships that were somewhat made "dormant" by the Covid-19 pandemic, saying this would contribute to the growth of both their economies.
He made this remark during a dinner meeting with executives of Mitsui & Co. and Metro Pacific Investments Corporation (MPIC) just after his arrival in Tokyo.
On its official Facebook account, state-run Radio Television Malacañang (RTVM) showed video footage of Marcos along with Mitsui and MPIC executives like Mitsui & Co. chief executive officer Kenichi Hori and MPIC chairperson Manny Pangilinan.
"The partnership between not only Mitsui but the whole of Japan and the Philippines has been a long-standing one. We can point to so many of the developments that happened in the Philippines with the assistance of the different Japanese funding agencies and our government-to-government (G2G) arrangements and commercial arrangements, and these have been to the benefit of both our countries," Marcos said.
"The partnerships, I think, that we have developed with our friends here in Japan, with Mitsui, in particular…We will have to revitalize them as they have been dormant to a degree, during the lockdowns of the pandemic," he added.
He, likewise, said he looked forward that the discussions that would take place during his five-day official visit would help become "a driver in the transformation of our economy."
Aside from Pangilinan, other business leaders who are part of the country's delegation were also present like San Miguel Corp's Ramon Ang and Ayala Corp's Jaime Augusto Zobel de Ayala.
Marcos was accompanied by First Lady Liza Araneta-Marcos along with several key government officials including Senate President Juan Miguel Zubiri, House Speaker Martin Romualdez and former president and now Senior Deputy Speaker Gloria Macapagal-Arroyo.
Mitsui & Co. is a Japanese company that primarily engages in product sales, logistics and financing, infrastructure projects, iron and steel products, information technology (IT) and communication, among other businesses. It currently operates in 128 offices in 63 countries including the Philippines.
Meanwhile, the MPIC is a Philippine-based investment management and infrastructure holding company mostly involved in strategic partnerships through improving operational efficiency, increasing customer coverage, and working closely with regulators and other partners in government.

Finalizing halted projects
Meanwhile, Marcos also said the Philippines is keen on "finalizing" some projects with Japan that were halted because of the Covid-19 pandemic as well as new viable projects.
He cited how the two countries have very well-developed interactions about G2G or even commercial ventures.
"So what we're really having to do now is we are going to have to… we're finalizing some of the projects that, for example, were postponed because of the pandemic lockdowns and also now some new projects that are follow on from kung ano 'yung dati (previous projects)," he said told reporters on board PR001.
He noted that his official trip to Japan was no longer just an introduction to the Philippines but now has a "very specific" schedule.
Marcos is currently on a five-day official trip to Japan to strengthen Manila and Tokyo's collaboration in a wide range of areas, including agriculture, renewable energy, digital transformation, defense and infrastructure.
In his departure before leaving Manila, Marcos said he will be cultivating collaboration in areas "where future synergies and complementary interests converge with those of Japan."
Marcos' schedule will include a meeting with Japanese Prime Minister Fumio Kishida and an audience with Emperor Naruhito as well as meetings with Japan's business leaders to promote trade and investment opportunities in the Philippines.
Before flying back to Manila, he will also meet with the Filipino community in Japan. (PNA)