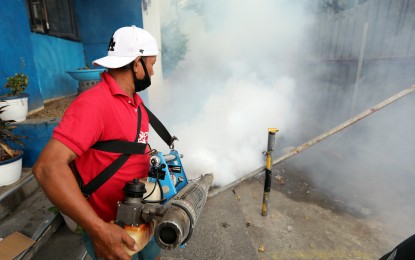 MANILA – The Department of Health (DOH) is aiming to reduce malaria cases in Palawan to zero by 2026.
"We want to focus our programs in Palawan, which is a province with remaining active cases, so in 2026, we would like Palawan to reduce its malaria cases to zero," DOH Standards and Strategy Division head Dr. Gerald Belimac said in a media Kapihan session on Friday.
Earlier, the DOH announced that all provinces nationwide are malaria-free except for Palawan. It said 66 are malaria-free provinces while 15 have zero indigenous cases.
Belimac noted that the malaria cases in Palawan are concentrated in the southern part of the island.
In 2022, the number of confirmed indigenous malaria cases was 3,157. The DOH aims to reduce it to 1,105 by and to 552 by 2025.
The agency also aims to reduce the number of confirmed indigenous malaria deaths to zero.
"In terms of prevention, we will continuously provide commodities that would prevent the proliferation of insects, such as the malaria mosquito or the Anopheles mosquito, through the distribution of long-lasting insecticide-treated nets and insecticides for indoor spraying," Belimac said.
"We will continue to provide support in the provinces so that the provinces are able to conduct targeted testing and treatment, we mean to say we will provide them rapid diagnostic tests, as well as anti-malarial drugs and we will also do targeted drug administration."
The DOH is also planning to continue with awareness campaigns, surveillance of mosquito types in concerned areas, and case investigations.
Malaria is a life-threatening – but preventable and curable – disease caused by parasites that are transmitted to people through the bites of infected female Anopheles mosquitoes.
According to the World Health Organization (WHO), there were 247 million cases of malaria and 619,000 malaria deaths in 2021.
Children under five years old are the most vulnerable group affected by malaria and they accounted for nearly 80 percent of all malaria deaths in the WHO African Region in 2021. (PNA)