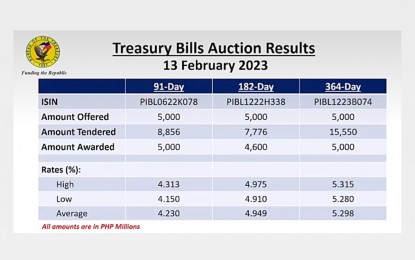 MANILA – The Bureau of the Treasury (BTr) fully awarded the 91-day and 364-day Treasury bills (T-bills) on Monday but partially awarded the 182-day after its rate surpassed that in the secondary market.
The average rate of the three-month paper rose to 4.230 percent, the 182-day paper to 4.949 percent, and the one-year to 5.298 percent.
These were at 4.186 percent, 4.867 percent and 5.292 percent for the 91-day, 182-day and 364-day paper during the auction last Feb. 6.
The BTr offered all tenors for PHP5 billion each and all were oversubscribed.
Total bids for the three-month paper reached PHP8.856 billion while it amounted to PHP7.776 billion for the six-month paper and PHP15.55 billion for the one-year paper.
While the auction committee fully awarded the three-month and one-year T-bill, it only awarded PHP4.6 billion for the six-month paper.
"Except for the 182-day, auction committee made full award as rates were lower than comparable secondary levels," National Treasurer Rosalia de Leon told journalists in a Viber message.
Rizal Commercial Banking Corporation (RCBC) chief economist Michael Ricafort traced the T-bill rate uptick to the higher-than-expected January 2023 inflation rate of 8.7 percent, a new 14-year high, from the previous month's 8.1 percent.
He said this development is expected to further push up by 25 basis points the Bangko Sentral ng Pilipinas' (BSP) key rates when the policy-making Monetary Board (MB) meets on Feb. 16.
Ricafort added that further jumps in the Federal Reserve's key rates could also be a contributory factor along with the increase in US' 10-year Treasury yield to a new one-month high of 3.73 percent.
"T-bill auction yields also slightly higher week-on-week amid the ongoing RTB (retail treasury bond) offering that could siphon off some of the excess liquidity from the financial system and add to the supply of government securities in the market," he added. (PNA)