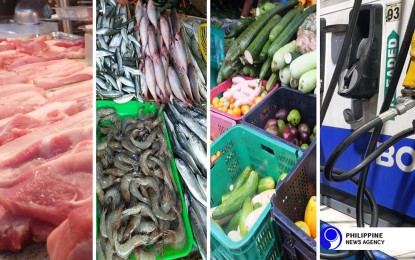 MANILA – The path of the Federal Reserve's key rates, the domestic inflation and the peso's performance are expected factors on the future adjustments in the Bangko Sentral ng Pilipinas' (BSP) key rates.
On Thursday, the central bank's policy-making Monetary Board (MB) hiked the BSP's key rates by 50 basis points, to 6 percent for the overnight reverse repurchase (RRP) rate, after noting the higher-than-expected January 2023 inflation rate of 8.7 percent, among others.
Rizal Commercial Banking Corporation (RCBC) chief economist Michael Ricafort said the latest rate adjustment in the central bank's key rates is the eighth consecutive hike while the RRP rate, which will take effect this Friday, is the highest in more than 15 years or since July 2007.
"Local policy rates would still be largely a function of the local inflation trend as well as the future Fed rate hikes after the recent signals from Fed Chair (Jerome) Powell on possible higher peak in Fed(eral Reserve) Funds Rate especially if the US labor/employment market remains strong," he said.
Ricafort said the BSP's key rates would likely match future Fed rate hikes and the market expects two to three more rate hikes until June this year.
"As a result, any additional Fed rate hikes of about +0.25 each especially on March 22, 2023 and May 2, 2023 could be, at least, matched locally on the next local rate-setting meetings on March 23, 2023 and on May 18, 2022 to maintain a more comfortable interest rate differential that help stabilize the peso exchange rate and overall inflation," he said.
Ricafort said "timeliness and size of any future local policy rate hikes would also be a function of the behavior of peso exchange rate given its impact on import prices and overall inflation."
"So if the peso exchange rate is relatively stable, any future local policy rate adjustments would just match any future Fed rate moves in the near future," he added.
On Thursday, the peso closed the day sideways against the greenback at PHP55.12 from day-ago's PHP55.17.
Ricafort said inflation is also a big consideration in the BSP's rate setting decisions vis-à-vis the size of future rate hikes.
"However, this is offset by the fact that supply-side inflationary pressures, not due to higher demand, would not make further rate hikes effective, thereby could be better addressed by non-monetary measures to increase local supply of food and other commodities in an effort to bring down prices and overall inflation," he said.
The BSP hiked its 2023 average inflation forecast from 4.5 percent to 6.1 percent, way above the government's 2 to 4 percent target band.
In a commentary, ING senior economist Nicholas Mapa said future rate hikes are expected given the hawkish statement by BSP Governor Felipe Medalla and the rise in the central bank's average inflation forecast.
Citing Medalla's statement about inflation pressures remaining high and non-monetary measures taking some time to impact on inflation, Mapa forecasts a 25 basis points increase in the BSP's key rates during the rate setting meeting of the MB in March.
"Given this new information and the obvious shift in tone from Governor Medalla, we now expect a 25 bp (basis points) rate hike by the BSP at the March meeting with our forecast for BSP's terminal rate at 6.25 percent," he added. (PNA)