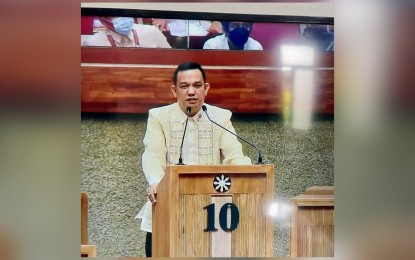 LEGAZPI CITY – The Committee on Natural Resources of the House of Representatives has approved House Bill (HB) 1405 which seeks to establish Mt. Masaraga in Albay as a protected area.
In an interview on Friday, Albay 3rd District Rep. Fernando T. Cabredo, the author of the bill, said Mt. Masaraga must be protected because of its rich biological diversity.
"Mt. Masaraga has a vital role as a critical watershed for the Bicol River Basin that supports agricultural productivity and provides a clean and sustainable water source," Cabredo said.
He also said HB 1405, which was approved on Feb. 15, would save Mt. Masaraga and preserve its unspoiled beauty and its flora and fauna.
Local environmentalists said the 1,328-meter (4,357 feet) high Mt. Masaraga is home to diverse species of flora and fauna, including the Rafflesia, which is considered the world's largest flower.
Cabredo, an environmental advocate, said "the protection and conservation of forests and mountains would greatly benefit the future generations."
Designating Mt. Masaraga as a protected landscape area would protect it from future exploitations and devastations through "kaingin" or the slash-and-burn farming method, illegal cutting of trees, hunting and irresponsible trekking, he said.
The bill, once signed into law, would give the city government here and the Department of Environment and Natural Resources (DENR) shared responsibility in preserving the pristine condition of the mountain, Cabredo added.
The Philippine Institute of Volcanology and Seismology (Phivolcs) lists the forested and sharp-topped mountain as an inactive volcano. It is also located close to the cone-shaped Mayon Volcano.
Tectonically, Mt. Masaraga is part of Bicol's chain of volcanoes and of the so-called "Pacific Ring of Fire".
Cabredo said after the Committee's approval, the bill will be forwarded to the plenary where it will be deliberated on, and hopefully approved, by all the members of the House of Representatives. (PNA)