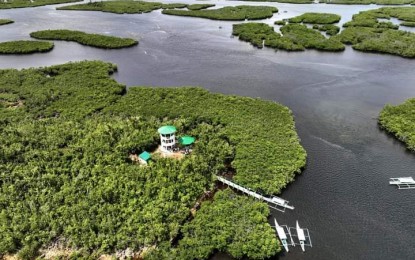 MANILA – The Climate Change Commission (CCC) on Sunday lauded the Del Carmen Mangrove Reserve in Siargao -- one of the largest in the country spanning over 4,800 hectares -- for being recognized by the government as a Wetland of International Importance early this month.
In a news release, CCC vice chairperson and executive director Robert Borje said the recognition serves as a "precursor" to its formal listing as the country's ninth wetland of international importance under the 1971 Ramsar Convention.
The declaration of Ramsar sites is provided under the Ramsar Convention, an inter-governmental environmental treaty established in 1971 by the United Nations Educational, Scientific, and Cultural Organization (UNESCO) for the conservation and sustainable use of wetlands.
"We rely on these mangroves for a lot of things: shoreline stabilization, surge protection, food security, flood control, water purification, groundwater replenishment, and climate change mitigation," Borje said.
He also expressed confidence that Del Carmen Mangrove Reserve and the entire Siargao Island Protected Landscapes and Seascapes (SIPLAS) would be headed for "bigger things."
Del Carmen Mayor Alfredo Coro II pointed out that the process of getting the Del Carmen Mangrove Forest to be recognized as a Wetland of International Importance can be traced back as early as 2011.
To recall, the CCC formulated the National Climate Change Action Plan (NCCAP) to address urgent and immediate needs and concerns regarding the adverse effects of climate change.
Under the NCCAP, an ecologically sound, stable, and economically resilient town was built in Del Carmen.
"We started with the CCC program Ecotown that allowed us to understand and appreciate the value of the mangrove forest," Coro said.
"We have conducted extensive targeted research with the Department of Science and Technology-National Research Council of the Philippines, Department of Environment and Natural Resources-Biodiversity Management Bureau, and Department of Agriculture-Bureau of Fisheries and Aquatic Resources, and are currently updating the Ramsar Information System to be forwarded to UN [United Nations] Ramsar for evaluation," he added.
Coro said the local government of Del Carmen is also leading the campaign to transition from Ramsar Listing to UNESCO Global Geoparks which will cover the entire island of Siargao.
UNESCO Global Geoparks are geographical areas where sites and landscapes of international geological importance are managed with a holistic approach to protection, sustainable development, and education.
There are currently 177 UNESCO Global Geoparks in 46 countries.
Likewise, Del Carmen is working closely with various partners to gather additional data to support the Ramsar and UNESCO Global Geoparks application.
USAID's Philippine Sustainable Interventions for Biodiversity, Oceans and Landscapes, Metro Pacific Investments Foundation's Shore It Up, Rare, Caraga State University, and University of the Philippines Los Baños are some of the development partners.
The Philippines currently has eight Ramsar Sites, including the Tubbataha Reefs Natural Park and Puerto Princesa Subterranean River National Park in Palawan.
However, the country is yet to be included on the UNESCO Global Geoparks list.
The CCC continues to provide capacity-building programs and technical assistance for local planners and disaster risk reduction management officers to increase the capacities of local government units on local climate change action plan formulation, and climate change mainstreaming process, regardless of where they are.
"The Climate Change Commission has been working with various local stakeholders and the international community, engaging all important members of the society in a one-country team approach. The convergence of resources – the convergence of hardware, the software, and the humanware – will be critical to achieving success," Borje said. (PNA)