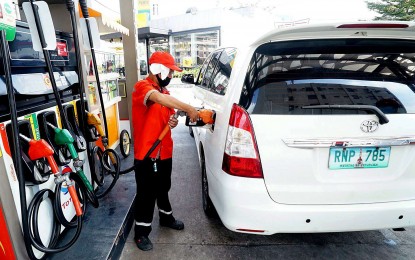 MANILA – Oil companies will adjust fuel prices on Tuesday.
In separate advisories, Caltex, Cleanfuel, Jetti, Petro Gazz, PTT, Seaoil and Shell said they will increase gasoline prices by PHP0.90 per liter and PHP1.05 per liter on diesel prices.
On the other hand, Caltex, Seaoil and Shell will roll back kerosene prices by PHP0.25 per liter.
Outlook for oil demand from China and concerns on supply continue to drive oil prices in the global market as the Organization of Petroleum Exporting Countries and its allies (OPEC+) targets to further cut production this year.
With the price adjustments in fuel products last week, gasoline prices recorded an increase of PHP7.20 per liter since the start of the year, while diesel and kerosene prices also hiked by PHP0.85 and PHP2.05 per liter, respectively.
Data from the Department of Energy show that as of Feb. 17, gasoline prices range from PHP56 to PHP78.20 per liter, from PHP54.40 to PHP74.84 per liter for diesel, and from PHP71.50 to PHP77.95 per liter for kerosene. (PNA)