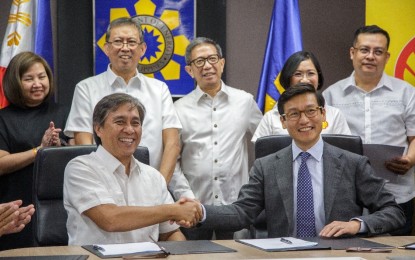 MANILA – Alternergy Holdings Corp., a pioneer in renewable energy in the country, has secured three service contracts for its offshore wind projects over Tablas Strait which is separating Mindoro and Antique.
In a statement sent to reporters over the weekend, Alternergy said the Department of Energy (DOE) awarded the wind energy service contracts to its wind unit Pililla AVPC Corp. (PACO) for the Tablas strait offshore wind power project.
The Tablas strait projects cover around 120,000 hectares.
"Our Tablas strait offshore wind power projects are located in one of the zones identified by a World Bank study that is most suited to offshore wind development. We look forward to proceeding with the pre-development activities, particularly technical studies and resource assessment," PACO chief executive officer Knud Hedeager said.
Hedeager added the projects were subjected to rigid technical, legal and financial review by the DOE since July 2022.
PACO currently has four offshore wind energy service contracts. Last year, DOE awarded the service contract for Calavite Passage.
These offshore wind projects will be developed through Alternergy's partnership with Shell Overseas Investments B.V.
Alternergy is set to list at the Philippine Stock Exchange (PSE) on March 24, 2023 as proceeds from its initial public offering (IPO) will be used for pipeline projects, including offshore wind projects.
It targets to develop 1,370 megawatts of renewable energy projects including wind, offshore wind, solar and run-of-river hydro projects. (PNA)