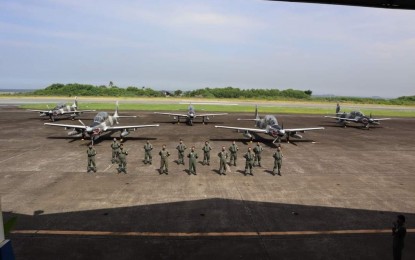 MANILA – Brazilian aerospace manufacturer Embraer has bagged a service agreement to provide support for the Philippine Air Force's (PAF) fleet of six A-29 "Super Tucano" attack aircraft.
"Staying close to our customers and supporting them in their missions is core to what we do," Rinaldo Piubeli Prado, vice president of Worldwide Defense & Security Customer Support & Aftermarket Sales of Embraer Services Support, said in a statement Wednesday.
This agreement will provide support for "more than 200-part numbers" of the Super Tucano aircraft in PAF service.
"Leveraging on our customer support team in Asia Pacific, we are honored to support the PAF as they deploy the A-29 and utilize it to its fullest potential," Prado said.
The PAF's six A-29 attack aircraft were delivered in 2020 at the height of the pandemic.
Four of the aircraft arrived on Sept. 19, 2020, and the remaining two on Oct. 1 of the same year.
The "Super Tucano" is a turboprop aircraft designed for light attack, counter-insurgency, close air support, and aerial reconnaissance missions in low-threat environments, as well as providing pilot training.
The contract for the PAF's six A-29s was worth PHP4.97 billion and was issued in late 2017.
These aircraft are operated and maintained by the PAF's 15th Strike Wing.
Last year, Embraer's worldwide fleet of A-29 Super Tucano aircraft reached 500,000 flight hours.
With more than 260 units delivered, the aircraft has been selected by more than 15 air forces worldwide. (PNA)