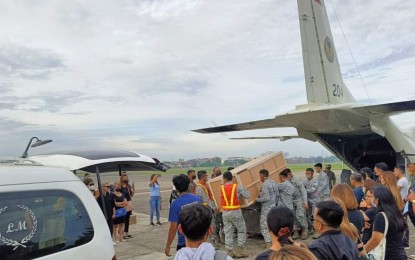 MANILA – The Philippine Air Force (PAF) airlifted the remains of 24-year-old hazing victim John Matthew Salilig, a chemical engineering student from Adamson University, to his hometown in Zamboanga City on Thursday.
"As the PAF conducted its regular tactical airlift missions on March 2, 2023, utilizing a C-295 aircraft, it also transported the remains of John Matthew Salilig from Colonel Jesus Villamor Air Base, Pasay City to Edwin Andrews Air Base, Zamboanga City," Air Force spokesperson Col. Ma. Consuelo Castillo said in a statement Thursday night.
She also added that the aircraft that performed the jibed ferry mission landed at the military ramp where the victim's family was waiting.
The Air Force joined other sectors in condemning the hazing death of Salilig.
"As a professional organization, the PAF condemns hazing and any kind of action that violates human rights and dignity. The PAF sends our sincerest condolences to the bereaved family of the victim," Castillo said.
Salilig was reported missing since Feb. 18 before his body was found buried in a pit at a vacant lot in Imus, Cavite last Feb. 28. (PNA)