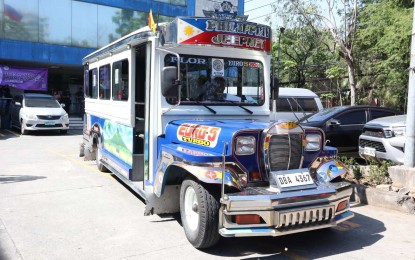 MANILA – The Employers' Confederation of the Philippines (ECOP) has appealed to both the government and striking transport groups to negotiate for a mutually-acceptable solution to the public utility vehicle (PUV) modernization issue.
Leaders of the employer sector made this call Tuesday amid the ongoing transport protest which they said can prove costly to member-companies should it become protracted.
In an interview, ECOP president Sergio Ortiz-Luis, Jr. said that even a "limited" strike which fails to paralyze transportation can potentially disrupt the economy.
"We cannot estimate the amount of losses from the first day (of the strike) but based on our past experience, this can run into the hundreds of millions," he said.
Ortiz-Luis also lauded the willingness of President Ferdinand R. Marcos Jr. to review the guidelines for PUV modernization to accommodate the concerns of the transport sector.
He also called on the strikers to "give the President the benefit of the doubt and work towards a fair compromise."
Similarly, ECOP chairman emeritus Francis Chua called on the Department of Transportation (DOTr) to find new ways to lower the cost of modernization shouldered by PUV operators.
While modernizing the country's aging PUVs is long overdue, Chua said the cost of acquiring new vehicles might be a problem for some of the smaller operators.
"Maybe the DOTr can relax certain guidelines to make modernization more affordable," he added.
Meanwhile, Chua said recent advances in telecommuting technology have softened the ongoing transport strike's impact on industries.
However, while certain clerical jobs can be accomplished from home, he said, workers in the services and manufacturing sectors will always need to be physically present in their workplaces.
Ortiz-Luis said ECOP noted a significant drop in overall productivity during the height of the coronavirus disease 2019 (Covid-19) pandemic when many employees were working from home.
He said a main contributor to the performance decline was the speed and reliability of internet services in the country. (PNA)