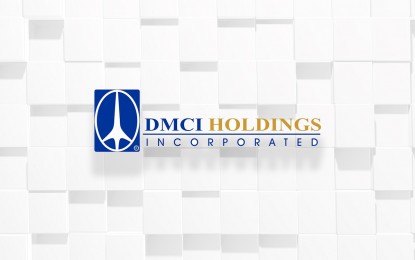 MANILA – Diversified engineering conglomerate aims to increase volume and maximize cost management this year to address projected slowdown of the commodity and electricity markets, which drove the firms' earnings last year.
In a disclosure in the local bourse on Tuesday, DMCI Holdings reported a 69 percent annual rise of its earnings in 2022 to PHP31.1 billion, a record-high for the company to date.
DMCI Holdings chairman and president Isidro A. Consunji said last year "was a very good year for us", attributing this to the "bullish commodity and electricity markets."
"We expect these markets to soften this year, so our strategy is centered around increasing volumes and optimizing cost management to maintain healthy margins," he said.
The conglomerate's consolidated revenues rose by 32 percent to PHP108.3 billion in 2022 due to "higher coal and electricity prices."
Core income also posted a record high after it jumped by 80 percent to PHP31.2 billion, net of the 2021 non-recurring revenues from the PHP1 billion remeasurement of deferred tax liabilities on account of the implementation of the Corporate Recovery and Tax Incentives for Enterprises (CREATE) Act, and the PHP93 million non-recurring loss from the asset write-down of two gas turbines under Southwest Luzon Power Generation Corporation.
The company said this development transpired even after a 30 percent decline in consolidated net income in the fourth quarter to PHP3.5 billion "as growth in operating expenses outstripped revenues."
It said consolidated core earnings during the period also fell 30 percent to PHP3.6 billion.
"The declines were due to the combined effect of higher stripping costs and fuel expenses, as well as income tax expense, coupled with fewer real estate accounts that qualified for revenue recognition and appreciation of the peso against the dollar late last year," it added.
Among its businesses, the Semirara Mining and Power Corporation's contribution rose by 145 percent to PHP22.7 billion "on all-time high domestic coal shipments, higher spot electricity sales and elevated market prices."
The share of DMCI Homes on core earnings reached PHP4.5 billion, up by 2 percent "because of better selling prices and higher other income from forfeitures."
DMCI Mining pitched in PHP1.3 billion, up by 7 percent year-on-year, despite the "25-percent drop in shipments due to a 15-percent jump in average selling price."
DMCI Power also contributed PHP742 million in core earnings, up by 28 percent because of "higher electricity sales and average selling price."
Similarly, D.M. Consunji, Inc. shared in PHP587 million, higher by 55 percent "following the completion of building and infrastructure projects."
On the other hand, share of Maynilad went down by 6 percent year-on-year to PHP1.4 billion despite a 4-percent rise in its revenues.
The company traced this development to the "result of higher costs for light and power, repairs and maintenance, and chemicals." (PNA)