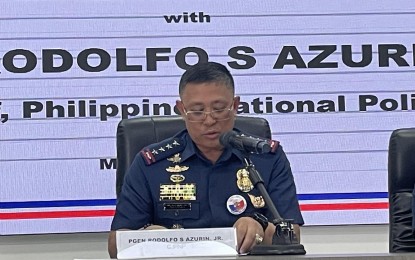 MANILA – Philippine National Police (PNP) chief, Gen. Rodolfo Azurin, said the five-member advisory group of the police force has assessed half of 955 police generals and colonels to cleanse the ranks of those involved in illegal drug activities.
In a press briefing at the police headquarters Camp Crame, Quezon City on Monday, Azurin said the body has made recommendations to President Ferdinand R. Marcos Jr. through the National Police Commission (Napolcom).
"Almost half or more than a little over of half of the third level officers had been evaluated and assessed and recommendations had been submitted already to the Office of the President through the Napolcom for rechecking and further assessment para sa ganoon pagpasa kay President either i-accept niya or i-reject niya yung (so that it's up to the President whether to accept or reject the) courtesy resignations," said Azurin, referring to the generals and colonels of the police force.
Azurin declined to elaborate on the recommendations of the advisory group, saying he does not want to preempt the decision of the President.
"(Due to) the sensitivy of the ongoing evaluation, we'll just release the result of our recommendation upon the approval of the President. It will be premature if we will be releasing (the recommendations) it and then the President's decision will be different. So we just have to wait for the approval of our President, based on the recommendation of the advisory group, through the Napolcom," he added.
Aside from Azurin, other members of advisory group were retired police general and Baguio City Mayor Benjamin Magalong, Office of the Presidential Adviser on Military Affairs Undersecretary Isagani Nerez, former Defense Secretary Gilbert Teodoro and retired Court of Appeals Justice Melchor Sadang.
Based on the agreement, officials whose resignations would be accepted would be forced to retire, regardless of how long they are supposed to still stay in the PNP.
The mandatory retirement age of uniformed personnel of the PNP is 56 and those who were asked to resign include generals and police colonels, some of whom still have at least eight years in the service.
In the next three months, Interior Secretary Benjamin Abalos Jr. said the committee would thoroughly vet police officials and submit the names of those whose resignations are accepted to the Napolcom for another round of verification before submitting their recommendation to the president.
The move aims to cleanse the ranks of officers in the police organization from possible influence or connivance with drug syndicates. (PNA)