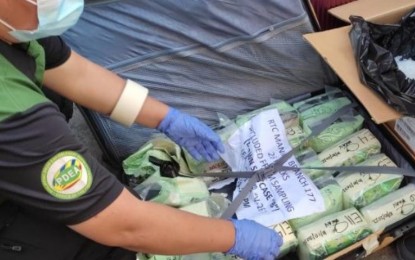 MANILA – The Philippine Drug Enforcement Agency (PDEA) destroyed on Thursday a total of PHP19.9 billion worth of dangerous drugs and controlled precursors and essential chemicals (CPECs) in Cavite.
A total of 3.7 tons of narcotics seized from various anti-drug operations were destroyed at the Integrated Waste Management, Inc. (IWMI) facility in Trece Martires City.
Based on the consolidated report of the PDEA Laboratory Service, the quantity of the destroyed pieces of drug evidence and their estimated value include 2,715 kg. of methamphetamine hydrochloride or shabu worth PHP18.4 billion; 306.78 kg. of marijuana worth PHP36.8 million; 407.7 grams of cocaine worth PHP2.1 million; 340.8 grams of ecstasy worth PHP1.3 million; and CPECs such as diazepam, nitrazepam, ketamine, liquid marijuana, among others.
Also destroyed were 20,000 milliliters of surrendered expired medicines.
"The pieces of drug evidence were destroyed through thermal decomposition or thermolysis which involves breaking down chemical compounds with the use of tremendous heat. At 1,000 degrees centigrade, all dangerous drugs are totally decomposed or broken down,'' PDEA said in a statement.
"The destruction of the dangerous drugs is in compliance with the guidelines set on the custody and disposition of seized dangerous drugs under Section 21, Article II of Republic Act 9165 or The Comprehensive Dangerous Drugs Act of 2002, and Dangerous Drugs Board Regulation No. 1, Series of 2002,'' it added.
Representatives from the Department of Justice, the Department of the Interior and Local Government, Local officials of Barangay Aguado, Trece Martires City, representatives from the Philippine National Police and other law enforcement agencies, non-government organizations and media partners together with key PDEA officials witnessed the said activity. (PNA)