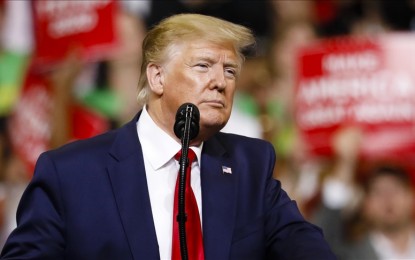 HOUSTON, US – A Chinese billionaire with ties to former US President Donald Trump's administration was arrested Wednesday on charges of defrauding investors out of $1 billion to support a lavish lifestyle for himself.
Guo Wengui – who is also known as Ho Wan Kwok and Miles Guo -- was taken into custody in New York over what the US Department of Justice called an alleged conspiracy that involved the misappropriation of funds obtained from his thousands of online followers.
According to multiple news outlets, Guo pocketed the money to buy a 50,000-square-foot mansion in New Jersey, a $37 million luxury yacht, a $4.4 million Bugatti sports car and a $3.5 million Ferrari for his son.
Prosecutors charged Guo with defrauding or misappropriating investor money using different schemes, including his media company GTV Media Group, a farm loan program through the Himalaya Farm Alliance, an exclusive membership club known as G|CLUBS and a cryptocurrency called the Himalaya Coin.
Guo and his business partner Kin Ming Je face 11 charges, including wire fraud, securities fraud and money laundering, with the most serious of the charges carrying a punishment of up to 20 years in prison.
Authorities said Je is currently at large and also faces an additional count of obstruction of justice.
"My office and our law enforcement partners will continue to do all that we can to protect the community from the devastating consequences of pernicious fraud schemes," said US Attorney for the Southern District of New York Damian Williams in a statement.
Guo was a staunch critic of the Chinese government and was exiled to New York after seeking asylum in the US in 2017. He claimed he was being persecuted by the Chinese Communist Party for exposing corruption in Beijing.
Guo had a close relationship with Trump adviser Steve Bannon and co-founded two nonprofit organizations -- the Rule of Law Foundation and the Rule of Law Society -- with Bannon.
Prosecutors allege Guo used those nonprofits to attract a following who believed in many of his ideas, including the theory that COVID-19 was likely engineered in a Chinese lab.
Guo's lawyer declined to comment.
Bannon has not been charged in the case. (Anadolu)