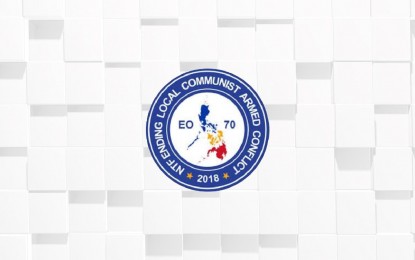 MANILA – The National Task Force to End Local Communist Armed Conflict (NTF-ELCAC) Legal Cooperation Cluster (LCC) on Monday said justice has been served to the Filipino people following the conviction of youth activist Alexandrea Pacalda for illegal possession of firearms, ammunitions and explosives.
"Justice has been served again to the Filipino people, as another member of the Communist Terrorist Groups (CTGs) has been put behind bars for violating the laws of the Republic," the body stressed in a statement.
On March 13, the Lucena City, Quezon Regional Trial Court Branch 56 sentenced Pacalda to eight to 10 years in prison for illegal possession of firearms and reclusion perpetua or up to 40 years in prison for illegal possesion of explosives.
"We thank the Hon. Judge Salvador C. Villarosa, Jr. for rendering a just and impartial judgment, and our brave prosecutors, military, police and law enforcers who risked their lives for the prompt rendering of justice," NTF-ELCAC LCC added.
"Although she had the chance to avail of the government's Enhanced Comprehensive Local Integration Program (E-CLIP) or the reintegration program for CTG surrenderees, Pacalda chose instead to recant her voluntary surrender and frame the government and the military for 'arbitrary detention', upon the prodding of Karapatan and the National Union of People's Lawyers (NUPL)," the body added.
The NTF-ELCAC LCC said it is tragic that these so-called "human rights defenders," Karapatan and NUPL, among others, left Pacalda alone in the prison to rot, but are bent on scouring for more youths to deceive and use as cover for their unlawful acts.
"The deceptions of Karapatan and NUPL, as borne in court records for the public to see, show how they defend those so called fake 'human rights defenders' – or those people who allegedly stand up for 'human rights', but in truth, carry out the twisted ideology of the Communist Party of the Philippines-New People's Army-National Democratic Front (CPP-NPA-NDF)," it added.
The body also pointed out that these are the same groups who would constitute the proposed "Human Rights Defenders Protection Committee" under House Bill No. 77 or the "Human Rights Defenders Protection Act".
"If enacted, this Committee, which is to be funded by the taxpayers' hard-earned money, would use their new-found powers to impede law enforcement by providing 'sanctuaries' or safe refuges for their fake 'human rights defenders comrades, and harass the law enforcers of the country," NTF-ELCAC LCC stressed.
It added that Pacalda's conviction should serve as "wake-up call and an eye-opener"to the youth to value their lives, their parents, and their loved ones; to pursue their dreams within the folds of law; and to be vigilant against the CTGs and their murderous ideology leading to death and destruction.
The NTF-ELCAC LCC also reminded legislators not deceived by the insidious House Bill No. 77 which will only be abused by the CTGs to protect themselves from law enforcement under the guise of "protecting human rights." (PNA)