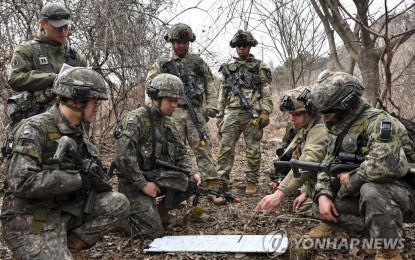 SEOUL – South Korea and the United States are conducting combined high-tech military drills with increased "intensity and realism," the Army here said Monday, as part of joint efforts to bolster deterrence against growing North Korean threats.
The drills are underway at the Korea Combat Training Center (KCTC), a facility employing cutting-edge technologies for realistic ground drills, in Inje, 165 kilometers east of Seoul.
The maneuvers are to run through Friday in connection with the allies' ongoing Freedom Shield exercise.
For the drills, the US military deployed a battalion-size unit for the first time.
The South mobilized wheeled-armored vehicles and reconnaissance drones, while the US brought Stryker armored vehicles and other assets.
The latest drills are divided into two three-day parts of separate defense and attack operations to heighten its "intensity and realism," according to the armed service.
Previous KCTC sessions were held for four days in total.
"Through this combined exercise, (we) were able to enhance the interoperability of the combined assets through tactical collaboration with the Stryker Brigade Combat Team," a South Korean official was quoted as saying.
Meanwhile, the allies kicked off their first large-scale amphibious landing exercise in five years on Monday.
The Ssangyong training is to take place in and around Pohang, 272 kilometers southeast of Seoul, through April 3.
It had not been held since its last edition in 2018 amid the preceding Moon Jae-in administration's drive for inter-Korean rapprochement. (Yonhap)