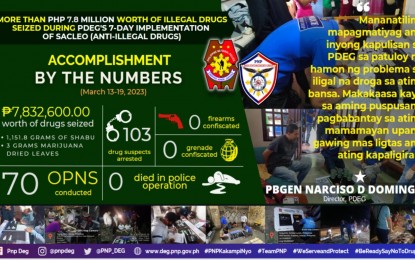 MANILA – Operatives of the Philippine National Police-Drug Enforcement Group (PDEG) has confiscated over PHP7.8 million worth of illegal drugs as a result of simultaneous anti-criminality law enforcement operations (SACLEO) from March 13 to 19.
In a statement Monday, PDEG chief, Brig. Gen. Narciso Domingo, has committed to sustaining all-out operations nationwide as the PDEG conducted 70 law enforcement operations comprising buy-bust operations for serving arrest warrants, and search warrant operations, which resulted in the arrest of 103 suspects.
He said the operations led to the seizure of 1,151.8 grams of shabu and marijuana leaves, with an estimated street value of PHP7,832,600.
Domingo said the PDEG strives to recuperate its integrity in conducting transparent and lawful anti-illegal drug operations, particularly on supply reduction.
"With this number of operations, noteworthy to mention that there were no reports of death or any armed encounter in all operations conducted by this Unit. This only shows that PDEG is conducting a fair, comprehensive, and balanced anti-illegal drugs strategy. Thus, it includes suppressing the flow of illegal drugs supply through sustained law enforcement operations and reducing consumer demand for drugs and other substances through drug rehabilitation and massive preventive education and awareness programs," said Domingo. (PNA)