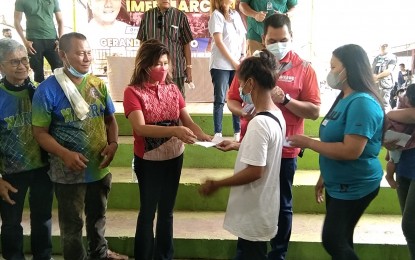 NARRA, Palawan – Fisherfolk groups in this town as well as in Aborlan and Puerto Princesa City will receive a PHP5-million assistance each from the Department of Agriculture (DA), Sen. Imee Marcos said here over the weekend.
"We want to help the women in fisherfolk so we will be giving PHP5 million. What you need to do is talk and decide what you think would be better – either cold storage or a freezer van, or maybe the others can undergo training for "tinapa" (smoked fish) or lamayo (dried danggit) processing," she told local officials during a visit here Sunday afternoon.
The senator, while here, led the distribution of cash aid to residents under the Assistance to Individuals in Crisis Situation (AICS) program of the Department of Social Welfare and Development.
Meanwhile, recognizing the role that Palawan plays in terms of fish supplies for Metro Manila, Marcos said the province needs to get more support for its fisheries sector.
"The whole of Metro Manila depends on Palawan when it comes to supply of fish and that is one of the issues that we need to focus on," she added.
She also said that by next month, the DA will start to distribute a PHP5,000 financial aid to palay farmers in this town while fishers in Puerto Princesa City, Narra and Aborlan will each receive a PHP3,000 fuel subsidy. (Genesis Medina/PNA)