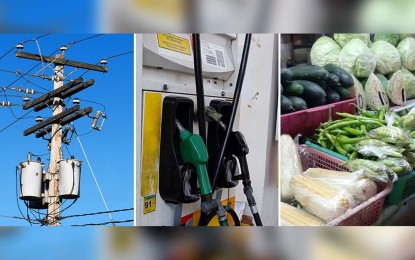 MANILA – The Bangko Sentral ng PIlipinas (BSP) is expected to raise its key rates by 25 basis points this week as domestic inflation remains elevated and both the supply and demand side risks still high.

In its economic preview for the week covering March 20-24, Moody's Analytics said the Philippines "is battling some of the stickiest inflation in the Asia-Pacific region."

The rate of price increases last February slowed to 8.6 percent but this was little changed from the 8.7 percent in the previous month, a 14-year high.

Bangko Sentral ng Pilipinas' (BSP) policy-making Monetary Board (MB) hiked the central bank's key rates by 50 basis points last February to 6 percent for the overnight reverse repurchase (RRP) rate, bringing the total rate increase since May last year to 400 basis points.

Moody's Analytics said drivers of domestic inflation rate come from both the demand and supply side, with the influx of tourists, among others, resulting in higher demand for accommodation, transportation and restaurant meals and is contributing to the faster inflation rate.

On the supply side, prices of oil in the international market remain elevated due to economic developments overseas.
"With inflation still too high, BSP will want to prevent what it calls the emergence of additional second-order effects," it said. "However, the small easing in inflation in February, which contrasted with BSP's expectation for an increase, could give the central bank confidence to step it back."
Meanwhile, the joint publication of First Metro Investment Corporation (FMIC) and University of Asia and the Pacific (UA&P), The Market Call, in its March 2023 issue, said domestic inflation remains a concern.

It said while prices of some food items and transport cost decelerated in the second month this year, this was countered by the faster rise in prices of eggs and milk and other dairy products.

Core inflation, which excludes volatile food and energy items, accelerated to 7.8 percent in the second month this year from the previous month's 7.4 percent.

"Despite core inflation YOY (year-on-year) rising faster in February, we should not lose sleep over it since food and transport prices, in the Philippines, have a lagged effect on 'non-volatile' items," it added.

It forecasts a 25 basis points increase in the BSP rates when the MB will have its second rate-setting meeting for the year on March 23 "with inflation likely to have peaked in January and price gains in the coming months much less than experienced in 2022."

It also forecasts the same jump in rates during MB's rate setting meeting in May.

"There is an upside risk in the March 21-22 meeting if the Fed (Federal Reserve) hikes its policy rates by 50 bps. BSP will likely not want to extinguish the economic recovery momentum," it added.

The Federal Open Market Committee (FOMC) will have its meeting on March 21-22 and it is widely projected to hike rates by 25 basis points.
Some analysts cited the need for the Federal Reserve to slow down or pause its rate hiking cycle to boost depositors' confidence and prevent a possible banking crisis following the collapse of two United States-based banks about two weeks ago. (PNA)