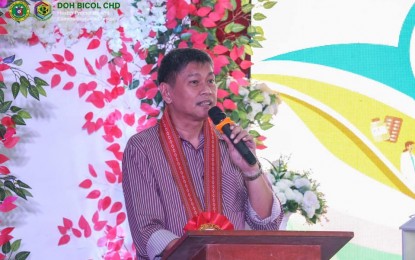 LEGAZPI CITY – The Department of Health in Bicol (DOH-5) has pursued a new strategy and program focused on increasing the accessibility of tuberculosis (TB) healthcare services in the region.
DOH-5 opened the Integrated Delivery of TB Services (iDOTS) facility in Castilla town, Sorsogon province on Wednesday as an initiative to decrease mortality and incidence rates of TB.
In a statement on Thursday, DOH-Bicol Regional Director Ernie Vera expressed the urgent need to improve health care and treatment of Drug-Susceptible Tuberculosis (DSTB) and Drug-Resistant Tuberculosis (DRTB) patients at the local level.
"Under the programmatic management of Drug-Resistant Tuberculosis, the iDOTS Phase II aims to shift Drug-Resistant Tuberculosis services from PMDT satellite treatment centers to the various rural health units (RHU) to improve the accessibility of TB services in the Bicol Region," Vera said.
He also urged local government units, health partners and stakeholders to adopt and intensify the quality of healthcare services for tuberculosis as part of the observance of World Tuberculosis Day 2023 on March 24.
Vera also said the opening of the iDOTS facility in Castilla signifies the start of the decentralization of drug-resistant tuberculosis cases to the RHUs.
Implementing iDOTS supports the Universal Health Care mandate to provide affordable, quality, and accessible services to all. (PNA)