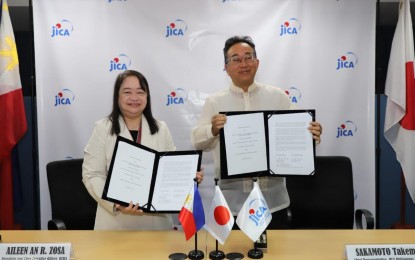 MANILA – The Bases Conversion and Development Authority (BCDA) on Thursday bared it has signed a technical cooperation agreement with the Japan International Cooperation Agency (JICA) in promoting transport-oriented developments (TODs), particularly in two BCDA properties where there are major railway projects.
In a statement, it said BCDA president and chief executive officer Aileen Zosa and JICA Philippines chief representative Sakamoto Takema signed the Record of Discussions for the Capacity Enhancement for the TOD Project last March 21.
TOD is part of urban planning that aims to maximize the use of land in an area by creating compact, high-density mixed-use development that features office, housing and retail areas, green and public spaces, as well as quality public transit.
As it promotes the use of efficient public transportation, TOD can help in reducing energy usage and carbon emissions by cutting down the need to travel and lessening the reliance on private vehicles.
Under the agreement, the JICA will provide technical assistance to BCDA in planning and implementing the TODs involving the PHP500-billion Metro Manila Subway Project (MMSP) and the PHP800-billion North-South Commuter Railway, which will traverse BCDA properties Fort Bonifacio and New Clark City, respectively.
Japan is also funding the two railway projects.
"Our sincerest appreciation to JICA for its strong, unwavering support to the Philippines and for this TOD capacity enhancement project, which will help BCDA learn from Japan's experience in efficient, fast, and reliable transportation system as well as gain more insights on urban development," Zosa said.
The BCDA will be leading in the development of the TODs in and around the four subways stations —Market! Market! in Bonifacio Global City (BGC), the proposed Senate-Department of Education (DepEd) station, Kalayaan Avenue and Lawton Avenue.
"BCDA is expected to identify institutional arrangements as well as develop TOD guidelines for the subway TODs, conceptual plans for the four TOD stations in Fort Bonifacio, and business plans for the TODs near the BGC and the proposed Senate-DepEd stations," BCDA said.
Sakamoto said the TODs will help the country in attracting investors and generating economic activities near the railway stations.
"This TOD will pave the way to further create business opportunities in and around railway stations. Consequently, the TOD can enhance the attractiveness of the Philippines to potential investors," he said. (PNA)