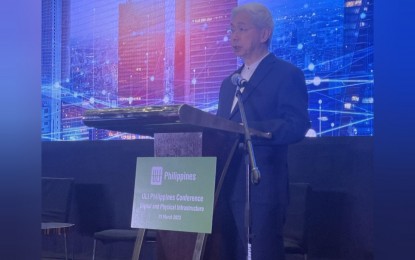 MANILA – Department of Trade and Industry (DTI) Secretary Alfredo Pascual on Wednesday underscored the Marcos administration's push to improve connectivity across the country.
During the Urban Land Institute of the Philippines Conference 2023 at the Grand Hyatt Manila in Taguig City, Pascual said the government vows to build better and more infrastructure that would balance growth in urban and rural areas.
"Connecting urban centers and rural areas, we enable more balanced growth among regions, too," he said.
Pascual said the government targets to connect economic zones, trade centers, manufacturing, and logistics hubs to address bottlenecks in the supply and transport of goods. Efficient transport and logistics will also help curb inflation.
"The development of robust infrastructure is the key to unlocking business opportunities and stimulating and sustaining economic growth. By investing in high-quality infrastructure, we not only enhance the overall business environment but also pave the way for increased investment," he added.
Pascual said the government is spending at least 5 percent of the gross domestic product (GDP) on infrastructure, both physical and digital.
The National Economic and Development Authority (NEDA) Board recently approved high-impact 194 infrastructure flagship projects (IFPs) worth PHP9 trillion.
President Ferdinand R. Marcos Jr. has been vocal that he wants to use the capital of the private sector by implementing the public-private partnership (PPP) model in selected IFPs where PPP is more effective.
"Of the 194 recently approved flagship projects by the NEDA Board, 45 will be financed through collaboration with the private sector, covering health facilities, port and airport development, and railways, among others. We expect the private sector partners to provide not just finance, but also technology and management expertise and system," Pascual said.
He said enhancing the physical and digital infrastructure in the country would provide more opportunities for Filipinos by growing industries, increasing productivity, and attracting investments.
"As a united government, we will continue to work tirelessly toward promoting businesses and industries in line with our economic agenda. We pledge to enhance our infrastructure, reaching every town, city, province, and region, ensuring that no one is left behind," he added. (PNA)