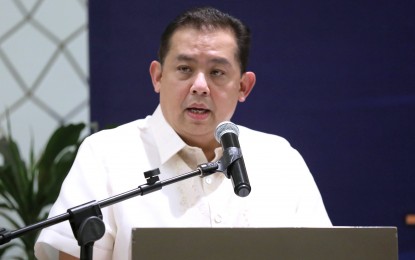 MANILA – Speaker Ferdinand Martin G. Romualdez on Thursday assured that the House of Representatives is committed to modernize the Armed Forces of the Philippines (AFP) as he emphasized the crucial role of the AFP to our nation's sovereignty, security and prosperity.

"Our military should be equipped with the latest technological advances and training to respond to the continuing threats that we face," Romualdez said to high-ranking military officers led by AFP Chief of Staff, Gen. Andres Centino, and lawmakers during the HOR-AFP fellowship series (Visayas leg) held at the Marco Polo Hotel Plaza in Cebu City.
"As we all know, peace and stability are crucial to the prosperity of any nation. Without it, social, economic, and political development cannot flourish. And while many factors contribute to peace and stability, a well-functioning and professional Armed Forces is undoubtedly one of the most critical components," he said.
In his remarks, the leader of the House also stressed on the importance of the HOR-AFP fellowship series in promoting closer cooperation between lawmakers and defense establishment leaders.
The Cebu City get-together was a sequel to the HOR-AFP fellowship-Luzon leg held last December.
"As we all know, the relationship between the legislature and the Armed Forces of the Philippines is essential to the well-being and security of our nation. In order to strengthen this bond, it is important to engage in activities that promote camaraderie and mutual understanding," he said.
"By spending time together in these settings, we can build trust, foster understanding and ultimately work together more effectively to serve our nation and its people," Romualdez said.
He also took the opportunity to report on the recently-ratified bicameral conference committee report on the proposals to amend Republic Act 11709, which fixes the terms of military officers.
Under the bill amending RA 11709, the chief of staff would still enjoy a fixed tenure of three years unless sooner replaced by the President, as the current law provides.
However, the Army, Air Force, Navy, and Philippine Military Academy chiefs would have a shorter tour of duty of two years.
The retirement age of AFP personnel would be increased by one year to 57 years.
Romualdez said the amendatory bill would pave the way for "a regular turnover of leadership, (which) is essential to maintaining a healthy and professional Armed Forces that is accountable to the people it serves."
"Regular turnover can ensure that new ideas and perspectives are constantly being introduced and that there is a healthy culture of competition and meritocracy within the Armed Forces. The reconciled bill would ensure balance, continuity, and professionalism in the AFP leadership," he said. (PNA)