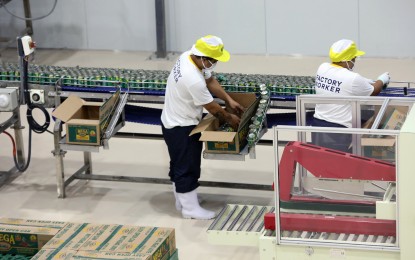 MANILA – The S&P Global Philippines Manufacturing Purchasing Managers' Index (PMI) reported that the country's manufacturing sector continued to post improvement in March with a score of 52.5, the third highest in Association of Southeast Asian Nations (ASEAN) region.
In its report released Monday, the country's manufacturing PMI last month was slightly lower than the 52.7 index in February this year.
S&P Global said despite the slowdown in manufacturing score, the domestic sector still indicated a historically strong improvement in operating conditions.
"The first quarter of 2023 concluded on a solid note, with a further expansion reported across the Filipino manufacturing sector, according to the latest PMI data. Both output and new orders rose at historically strong rates," S&P Global Market Intelligence economist Maryam Baluch said.
Baluch said firms raised their purchasing activity to keep up with the increasing sales.
"However, operating conditions improved at the slowest pace in seven months partly due to the softer rise in production and stocks of purchases, and with a second month of job shedding weighing on the headline index," she added.
The PMI report also noted that inflationary pressure among factories softened in March but shortages in raw materials, higher energy prices and delays in delivery have kept operating costs elevated.
"Despite a slight slowdown, March data revealed pressures on inflation and supply chains easing. Operating expenses rose at the slowest pace in 27 months, while the incidence of delays was among the weakest since the current sequence of deterioration in vendor performance began in August 2019," Baluch said.
Meanwhile, the report said Philippine-based manufacturing companies were optimistic in their output growth for the next 12 months.
"Business confidence across the sector remained upbeat, as strong demand conditions buoyed optimism in the outlook for future output," Baluch added.
The manufacturing PMI measures the health of the sector by giving a score of above 50 to improving manufacturing conditions, while scores below 50 reflect deterioration of the sector. (PNA)