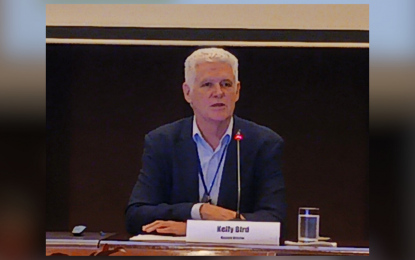 MANILA – The Asian Development Bank (ADB) keeps its 6 percent growth outlook for the Philippine economy this year but sees a faster expansion of 6.2 percent for 2024, citing the expected slowdown of domestic inflation.

In a briefing on Tuesday, ADB Philippines Country Director Kelly Bird said among the drivers for this year's gross domestic product (GDP) include the recovery of tourism, employment and retail trade; continued rise of the manufacturing sector; and the government's bid to further increase infrastructure investment.

However, Bird said the risks remain due in part to the sharper-than-expected slowdown in advanced economies, increased geopolitical tensions and the still elevated rate of price increases.

He is optimistic the domestic economy "will grow at its potential this year and next and is on track toward its goal to become an upper middle-income country."

"Like most other economies, the Philippines will be increasingly challenged by the impacts of climate change and the effects of emerging technologies on the labor market," he added.

ADB's growth forecast for the country this year is within the government's 6 to 7 percent assumption, which is the same range until 2025.

Bird said an increase in the domestic interest rate in the country is expected to have an impact on economic growth starting in the second half of this year, citing that the lag of interest rate hike is about six to 18 months.

The Bangko Sentral ng Pilipinas (BSP) started to increase its key rates in May 2022 in a bid to help address the impact of the pandemic on the domestic economy as well as the elevated inflation rate.

The ADB forecasts inflation to average 6.2 percent this year before decelerating to 4 percent next year.
Bird expects inflation to slow down to around 4 percent level before end-2023.
He said growth is not an issue for the domestic economy this year but the sticky inflation rate resulting from supply constraints on some food items due partly to import trade restrictions.

"But we do think that the inflation rate is about to peak and we hope that over the next couple of months, it show(s) sign of declining and moving back towards 4 percent towards the end of this year," he added.

The impact of the elevated inflation rate on domestic growth is somehow expected to be countered by the effects of the higher infrastructure spending, which Bird said has a long-term impact on the economy and inclusive growth. (PNA)