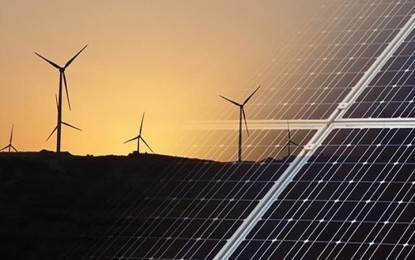 LONDON – Renewables generated 40 percent of the European Union's electricity over the winter period, overtaking fossil fuels, at 37 percent, for the first time, a new analysis from energy think tank Ember revealed Thursday.
The October 2022-March 2023 period was a "crisis winter" due to the energy crisis when electricity demand fell by 7 percent, leading fossil fuel generation to drop 12 percent compared to the previous winter and preventing a return to fossil fuels.
Electricity generation from renewables grew by 4 percent over the winter compared to the previous winter.
"Europe faced a crisis winter, with spiraling energy costs and supply concerns triggered by Russia's invasion of Ukraine. The EU got through those difficult months, but it cannot rely on emergency demand cuts and mild weather for future years," said Ember analyst Chris Rosslowe. "To keep power supply stable, the EU needs to divorce from fossil fuels as quickly as possible."
Electricity generation from coal declined by 11 percent and from gas by 13 percent during the winter, contrary to "fears that EU countries might turn to coal generation" as the EU shunned away from Russian gas, said the analysis.
"Coal and gas generation would have declined further if not for extended outages in France's nuclear fleet," Ember said.
Fifteen out of the 18 remaining EU coal power countries reduced electricity generation from coal over the winter.
Poland and Germany, the largest coal power countries in the EU, accounted for the 70 percent of the fall in the EU's electricity generation from coal this winter.
Italy, Finland and Hungary were the remaining three countries seeing a rise in electricity generation from coal.
The EU's falling demand saved €12 billion ($13.2 billion) worth of electricity over the winter, Ember calculated.
"Total EU electricity demand was down 6% on the five-year average, saving €12 billion worth of electricity over winter," said in the analysis.
According to the analysis, EU countries managed to reduce power demand in peak times by 5 percent, while only Ireland recorded a rise in demand during peak hours. (Anadolu)