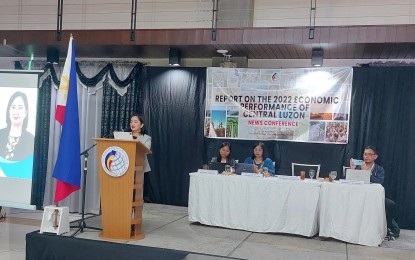 CITY OF SAN FERNANDO, Pampanga – The economy of Central Luzon has surpassed its pre-pandemic level after growing rapidly in 2022, the Philippine Statistics Authority Regional Statistical Services Office in Central Luzon (PSA RSSO III) reported on Thursday.
Results from the latest regional accounts showed the region's economic output rose to 8.1 percent in 2022 from 7.4 percent in 2021, exceeding the 2019 pre-pandemic level of 5.6 percent.
During the presentation of the report on the 2022 economic performance of Central Luzon held at the Orchids Garden here on Thursday, PSO RSSO III Regional Director Arlene Divino said the region's economy is in a strong position now as the government has made significant progress in recovering from the effect of the Covid-19 pandemic.
Nerrisa Esguerra, regional director of the National Economic and Development Authority (NEDA) likewise said that Central Luzon's economy is back on track after having the worst regional economic decline in 2020 due to the pandemic.
"The region is also among the top three fastest-growing regions, together with Davao and Bicol regions, in terms of growth in 2022 next to Western Visayas and Cordillera Administrative Region," she said.
Esguerra said the government has been implementing reforms, programs and projects aimed at addressing constraints to growth and pressing challenges, particularly inflation brought about by global developments and supply issues.
She cited the importance of the implementation of the Philippine Development Plan and the Central Luzon Regional Development Plan 2023-2028 with strategies that are designed to bring about economic and social transformation.
Against the backdrop of a tight fiscal space, she said that collaboration with the private sector is crucial to continue expanding the infrastructure base, strengthen resiliency, improve connectivity, attain food sufficiency and pursue human capital development.
The top contributors to the region's economic growth were construction with 15.2 percent, wholesale and retail trade as well as repair of motor vehicles and motorcycles with 8.0 percent and manufacturing with 5.7 percent.
Likewise, agriculture, forestry, and fishing rebounded to 2.1 percent in 2022 from a decline of -6.0 percent in 2021.
Services accounted for 46.3 percent of the region's total economy in 2022. This was followed by industry with 42.5 percent and agriculture, forestry and fishing with 11.2 percent.
Services accelerated to 8.9 percent in 2022 from 5.8 percent in 2022.
The top contributors to the services growth were accommodation and food service activities with 29.6 percent, professional and business services with 8.6 percent and wholesale and retail trade, repair of motor vehicles and motorcycles with 8.0 percent.
Of the 7.6 percent economic growth in the country, Central Luzon was the third largest contributor to the increase with 0.9 percentage points, accounting for 11.0 percent of the total Gross Domestic Product in 2022.
Likewise, Central Luzon's household final consumption expenditure accelerated at 7.7 percent in 2022 from 1.1 percent in 2021.
Meanwhile, gross capital formation slowed down to 12.5 percent from 42.6 percent in 2021.
Government spending also decelerated by 4.2 percent from 9.0 percent in 2021. (PNA)